Family is a harbor full of love and warmth. Without a harmonious family, life will be gloomy, lose joy! How to get along better with family is an important topic for every Christian. The Bible discusses many questions about family values and family, make Christ become the master of our family, guiding our everyday life. Here's a selection of Bible verses about family, let's read them together.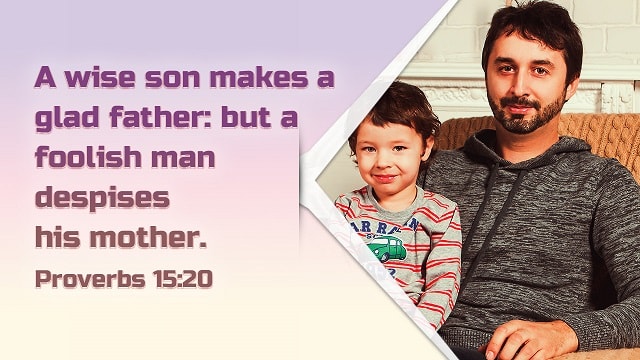 Genesis 1:28
And God blessed them, and God said to them, Be fruitful, and multiply, and replenish the earth, and subdue it: and have dominion over the fish of the sea, and over the fowl of the air, and over every living thing that moves on the earth.
Genesis 2:23
And Adam said, This is now bone of my bones, and flesh of my flesh: she shall be called Woman, because she was taken out of Man.
Genesis 18:19
For I know him, that he will command his children and his household after him, and they shall keep the way of the LORD, to do justice and judgment; that the LORD may bring on Abraham that which he has spoken of him.
Exodus 20:12
Honor your father and your mother: that your days may be long on the land which the LORD your God gives you.
Deuteronomy 5:16
Honor your father and your mother, as the LORD your God has commanded you; that your days may be prolonged, and that it may go well with you, in the land which the LORD your God gives you.
Psalm 103:17
But the mercy of the LORD is from everlasting to everlasting on them that fear him, and his righteousness to children's children;
Psalm 127:3-5
See, children are an heritage of the LORD: and the fruit of the womb is his reward. As arrows are in the hand of a mighty man; so are children of the youth. Happy is the man that has his quiver full of them: they shall not be ashamed, but they shall speak with the enemies in the gate.
Psalm 128:3
Your wife shall be as a fruitful vine by the sides of your house: your children like olive plants round about your table.
Proverbs 1:8
My son, hear the instruction of your father, and forsake not the law of your mother:
Proverbs 6:20
My son, keep your father's commandment, and forsake not the law of your mother:
Proverbs 12:4
A virtuous woman is a crown to her husband: but she that makes ashamed is as rottenness in his bones.
Proverbs 13:22
A good man leaves an inheritance to his children's children: and the wealth of the sinner is laid up for the just.
Proverbs 15:17
Better is a dinner of herbs where love is, than a stalled ox and hatred therewith.
Proverbs 15:20
A wise son makes a glad father: but a foolish man despises his mother.
Proverbs 22:6
Train up a child in the way he should go: and when he is old, he will not depart from it.
Proverbs 23:22
Listen to your father that begat you, and despise not your mother when she is old.
Matthew 15:4
For God commanded, saying, Honor your father and mother: and, He that curses father or mother, let him die the death.
Acts 10:2
A devout man, and one that feared God with all his house, which gave much alms to the people, and prayed to God always.
Acts 16:31-34
And they said, Believe on the Lord Jesus Christ, and you shall be saved, and your house.  And they spoke to him the word of the Lord, and to all that were in his house.  And he took them the same hour of the night, and washed their stripes; and was baptized, he and all his, straightway.  And when he had brought them into his house, he set meat before them, and rejoiced, believing in God with all his house.
Romans 12:9
Let love be without dissimulation. Abhor that which is evil; hold to that which is good.
1 Corinthians 13:4-8
Charity suffers long, and is kind; charity envies not; charity braggs not itself, is not puffed up,  Does not behave itself unseemly, seeks not her own, is not easily provoked, thinks no evil;  Rejoices not in iniquity, but rejoices in the truth;  Bears all things, believes all things, hopes all things, endures all things. Charity never fails: but whether there be prophecies, they shall fail; whether there be tongues, they shall cease; whether there be knowledge, it shall vanish away.
Ephesians 5:33
Nevertheless let every one of you in particular so love his wife even as himself; and the wife see that she reverence her husband.
Ephesians 6:1-2
Children, obey your parents in the Lord: for this is right. Honor your father and mother; which is the first commandment with promise;
Ephesians 6:4
And, you fathers, provoke not your children to wrath: but bring them up in the nurture and admonition of the Lord.
Colossians 3:13
Forbearing one another, and forgiving one another, if any man have a quarrel against any: even as Christ forgave you, so also do you.
Colossians 3:20
Children, obey your parents in all things: for this is well pleasing to the Lord.
1 Timothy 3:4
One that rules well his own house, having his children in subjection with all gravity;
1 Timothy 5:8
But if any provide not for his own, and specially for those of his own house, he has denied the faith, and is worse than an infidel.
1 John 4:19
We love him, because he first loved us.
Most people also read: Know God's Sovereignty, Worry About Marriage No More
Chat With Us!
You are welcome to join our devotional group to explore the issues of faith such as how to welcome the Lord's return, how to increase one's faith, how to rely on God and get close to God, how to know God, and how to read God's words.
Discuss in WhatsApp group
Connect with us on Messenger
Please read and agree to our privacy policy below to start chatting with us.