Bible Verses About Good Friday
Good Friday is the day to commemorate the Lord Jesus Christ's death for the salvation of mankind. The Lord Jesus has redeemed our sin by His crucifixion, allowing us to enjoy God's abundant grace and blessings, and bringing us the promise of eternal life. Read these Bible verses about Good Friday and appreciate God's good intentions in saving us.
John 3:16-17
For God so loved the world, that he gave his only begotten Son, that whoever believes in him should not perish, but have everlasting life. For God sent not his Son into the world to condemn the world; but that the world through him might be saved.
---
Mark 10:33-34
Saying, Behold, we go up to Jerusalem; and the Son of man shall be delivered to the chief priests, and to the scribes; and they shall condemn him to death, and shall deliver him to the Gentiles: And they shall mock him, and shall whip him, and shall spit on him, and shall kill him: and the third day he shall rise again.
---
Matthew 12:40
For as Jonas was three days and three nights in the whale's belly; so shall the Son of man be three days and three nights in the heart of the earth.
---
John 2:19
Jesus answered and said to them, Destroy this temple, and in three days I will raise it up.
---
» You might be interested in reading more about Good Friday Message: 
• God Is Almighty, but Why Did Jesus Redeem Us by Crucifixion?
• Bible Verses to Celebrate Easter
• 3 Truths About the Resurrection of Jesus Christ We Should Know
---
Romans 5:6-11
For when we were yet without strength, in due time Christ died for the ungodly. For scarcely for a righteous man will one die: yet peradventure for a good man some would even dare to die. But God commends his love toward us, in that, while we were yet sinners, Christ died for us. Much more then, being now justified by his blood, we shall be saved from wrath through him. For if, when we were enemies, we were reconciled to God by the death of his Son, much more, being reconciled, we shall be saved by his life. And not only so, but we also joy in God through our Lord Jesus Christ, by whom we have now received the atonement.
---
Romans 3:25-26
Whom God has set forth to be a propitiation through faith in his blood, to declare his righteousness for the remission of sins that are past, through the forbearance of God; To declare, I say, at this time his righteousness: that he might be just, and the justifier of him which believes in Jesus.
---
Mark 10:45
For even the Son of man came not to be ministered to, but to minister, and to give his life a ransom for many.
---
Isaiah 53:7-9
He was oppressed, and he was afflicted, yet he opened not his mouth: he is brought as a lamb to the slaughter, and as a sheep before her shearers is dumb, so he opens not his mouth. He was taken from prison and from judgment: and who shall declare his generation? for he was cut off out of the land of the living: for the transgression of my people was he stricken. And he made his grave with the wicked, and with the rich in his death; because he had done no violence, neither was any deceit in his mouth.
---
» Read more on our The Gospel of Jesus Christ page, or click on the related articles below:
• What's the Significance of the Lord Becoming Man's Sin Offering?
• How to Be Saved? Bound by Sin, Are We Truly Saved?
---
1 Peter 2:21-24
For even hereunto were you called: because Christ also suffered for us, leaving us an example, that you should follow his steps: Who did no sin, neither was guile found in his mouth: Who, when he was reviled, reviled not again; when he suffered, he threatened not; but committed himself to him that judges righteously: Who his own self bore our sins in his own body on the tree, that we, being dead to sins, should live to righteousness: by whose stripes you were healed.
---
1 Peter 3:18
For Christ also has once suffered for sins, the just for the unjust, that he might bring us to God, being put to death in the flesh, but quickened by the Spirit.
---
Isaiah 53:5
But he was wounded for our transgressions, he was bruised for our iniquities: the chastisement of our peace was on him; and with his stripes we are healed.
---
Matthew 27:50
Jesus, when he had cried again with a loud voice, yielded up the ghost.
---
Bible Verses About Easter
Easter is a very important day for Christians to celebrate the resurrection of the Lord Jesus. Here are 9 must-read verses for you to read and they will help you better know the gospel of the Lord Jesus.
Matthew 27:53
And came out of the graves after his resurrection, and went into the holy city, and appeared to many.
---
John 2 :19
Jesus answered and said to them, Destroy this temple, and in three days I will raise it up.
---
John 6:40
And this is the will of him that sent me, that every one which sees the Son, and believes on him, may have everlasting life: and I will raise him up at the last day.
---
John 10:18
No man takes it from me, but I lay it down of myself. I have power to lay it down, and I have power to take it again. This commandment have I received of my Father.
---
» We'd like to share with you the articles:
• 3 Truths About the Resurrection of Jesus Christ We Should Know
• True Meaning of Prophecy "the Resurrection of the Dead"
---
John 14:19
Yet a little while, and the world sees me no more; but you see me: because I live, you shall live also.
---
Acts 1:3
To whom also he showed himself alive after his passion by many infallible proofs, being seen of them forty days, and speaking of the things pertaining to the kingdom of God.
---
Acts 2:24
Whom God has raised up, having loosed the pains of death: because it was not possible that he should be held of it.
---
Acts 2:32
This Jesus has God raised up, whereof we all are witnesses.
---
Acts 17:31
Because he has appointed a day, in the which he will judge the world in righteousness by that man whom he has ordained; whereof he has given assurance to all men, in that he has raised him from the dead.
---
» Read more : Bible Verses to Celebrate Easter
---
Seven Words of Jesus on The Cross
The seven words of Jesus on the cross are the last seven expressions of the Lord Jesus when He was crucified to redeem mankind, which contains profound meaning. Let's contemplate and pray-read these Bible verses and feel God's love and salvation for us.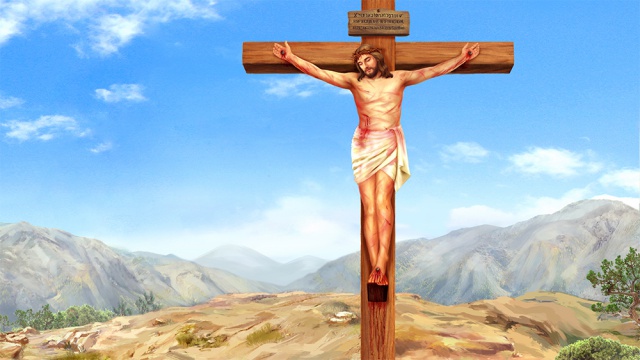 1. "Father, forgive them; for they know not what they do." -Luke 23:34
---
2. "Truly I say to you, To day shall you be with me in paradise." -Luke 23:43
---
3. "Woman, behold your son!" "Behold your mother!" -John 19:26–27
---
4. "My God, my God, why have you forsaken me? " -Matthew 27:46 & Mark 15:34
---
5. "I thirst." -John 19:28
---
6. "It is finished." -John 19:30
---
7. "Father, into your hands I commend my spirit." -Luke 23:46
---
» You might be interested in reading more about Good Friday Message:
• True Meaning of Jesus Saying "It Is Finished" on the Cross
• Does the Lord Jesus Saying "It Is Finished" Mean That God's Work of Saving Mankind Is Finished
Peace be with you all! Dear brothers and sisters, if you have any understanding or enlightenment from God, you're welcome to share with us.
1. Via the online chat window at the bottom right corner of the screen.
2. Send an email to info@testifygod.org.
We sincerely hope we'll grow spiritually through sharing with each other.