God Himself is Life – Gospel Reflection on John 6:33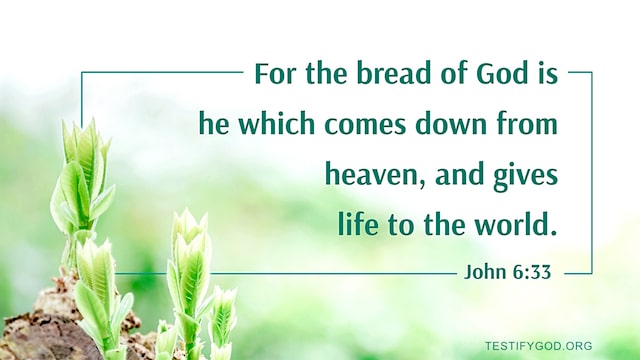 Today's Gospel
For the bread of God is he which comes down from heaven, and gives life to the world. - John 6:33
Reflection
From the Lord's words, we can see that the bread of God is His words—the bread which supplies us with life. God Himself is life. The life from God refers to His words. God bestows His words upon us so that we can gain the way of life from Him. However, many people pay no attention to pursuing the way of life to have spiritual growth. Instead, they pursue fleshly enjoyments. I remember the Lord Jesus' another requirement of us, "Labor not for the meat which perishes, but for that meat which endures to everlasting life, which the Son of man shall give to you: for him has God the Father sealed" (John 6:27). We all know that food can only satisfy the needs of the human body. No matter how much food we take, the emptiness in our spirits cannot be satisfied.
But the words granted by God can bring us eternal life. This made us clear that it is crucial to read a lot of God's words and practice according to His words. This is the only path for us to gain life. Just as God says, "The way of life is not something that can be possessed by just anyone, nor is it easily obtainable by all. That is because life can only come from God, which is to say, only God Himself possesses the substance of life, there is no way of life without God Himself, and so only God is the source of life, and the ever-flowing wellspring of living water of life."
» You may be interested in reading more on our Eternal Life page, or in the recommended articles below:
• I Finally Know What Is Eternal Life and How to Get It
• What Does Obtaining Eternal Life by Believing in the Son Mean?
Join our Bible study group!
Are you willing to take 10 minutes to pray to God and read His words? Join our group now!