The Pharisees Discussed Framing the Lord Jesus – Gospel Reflection on John 11:47-48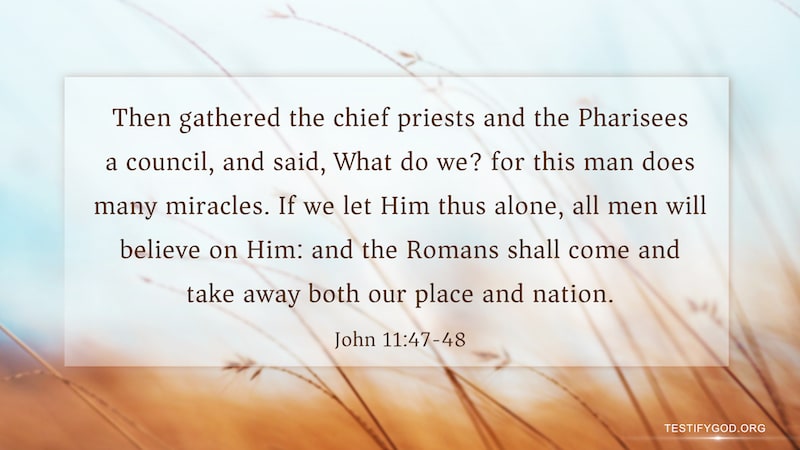 Today's Gospel
Then gathered the chief priests and the Pharisees a council, and said, What do we? for this man does many miracles. If we let Him thus alone, all men will believe on Him: and the Romans shall come and take away both our place and nation. - John 11:47-48
Reflection
At that time, the sermons the Lord Jesus preached and the miracles He performed shook up all of Judea, there were a lot of people spreading the Lord Jesus' name and the facts of His work, and more and more people were following Him. The Pharisees knew clearly that the Lord Jesus' work and words were full of authority and power; if He continued His work, then religious followers of Judaism would all reject them and follow Him; and finally the Judaism would be in paralysis and closed down. All these made them terrified and anxious. For the sake of protecting their own status and livelihood, they spared no effort in condemning, making up rumors, and framing the Lord Jesus. What's worse, they even colluded with the Roman government to nail the Lord Jesus to the cross in the end. It is evident that the Pharisees' belief in God was not for pursuing the truth, nor were their intentions of working and spending to do the will of God, and pursue loving and satisfying God. So they were unwilling to seek God's work humbly even if they had seen the authority and power of the Lord Jesus' work.
The Lord Jesus prophesied that He will come again in the last days. So, who plays the role of the modern Pharisee? Watch the skit "A Warning From History – Church Skit"
» Read more on our The Pharisees page, or click on the related articles below:
• How Should Christians Prepare for the Day of the Lord?
• Why the Pharisees Could Not Recognize the Lord Jesus Was the Messiah
• Learn the Root of the Pharisees' Resistance of the Lord Jesus in the Bible from 3 Aspects
Join our Bible study group!
Are you willing to take 10 minutes to pray to God and read His words? Join our group now!