Gospel for Today – Reflection on John 21:25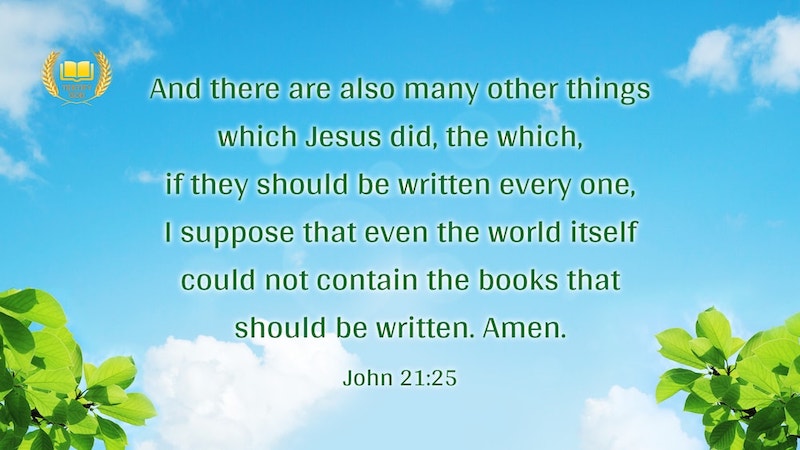 Today's Gospel
And there are also many other things which Jesus did, the which, if they should be written every one, I suppose that even the world itself could not contain the books that should be written. Amen. - John 21:25
Reflection
God is the source of the truth. And His utterances is sufficient. God's word says, "The way of life is not something that can be possessed by just anyone, nor is it easily obtainable by all. That is because life can only come from God, which is to say, only God Himself possesses the substance of life, there is no way of life without God Himself, and so only God is the source of life, and the ever-flowing wellspring of living water of life." The Lord Jesus had worked for three and a half years, and He said countless words and gave many sermons. Compared with the Lord Jesus' work and preaching in the three and a half years, the Lord's words recorded in the Bible are only a drop in the ocean. This makes me remember the Lord's word, "I have yet many things to say to you, but you cannot bear them now. However, when he, the Spirit of truth, is come, he will guide you into all truth: for he shall not speak of himself; but whatever he shall hear, that shall he speak: and he will show you things to come" (John 16:12-13). So we can see that the Lord Jesus' words recorded in the Bible are so limited, He has not finished speaking His words and will tell us when He comes again in the last days. Thus it's impossible to find these words in the Bible. If we say that all of God's word is in the Bible and there is no word of God outside the Bible, it is incompatible with the Lord's words. Then how should we seek the new words of God? Recommended for you:
• Is All of God's Word Really in the Bible
• How to Hear the Voice of God – 2 Key Principles
• Heated Debate: Are There Any Words of God Outside the Bible?
» You may be interested: Christian Movie "The Bible and God" Clip: Are All of God's Work and Words in the Bible?
Join our Bible study group!
Are you willing to take 10 minutes to pray to God and read His words? Join our group now!