Blessed Are They Which Are Persecuted – Reflection on Matthew 5:10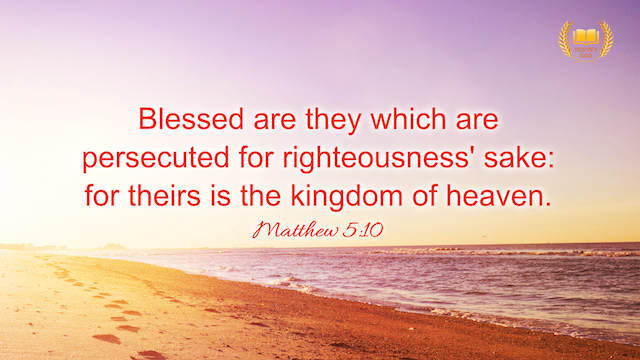 Today's Gospel
Blessed are they which are persecuted for righteousness' sake: for theirs is the kingdom of heaven. - Matthew 5:6
Reflection
The prophets throughout the ages have been persecuted, and some of them have even been killed. The twelve apostles of the Lord Jesus, except John, were all martyred, and when those foreign missionaries came to China to preach the gospel, they used their own blood and lives to sow the seeds of the gospel in China, completing their mission. But compared with the promises of the Lord Jesus, what do these persecutions count for? The Lord Jesus clearly told us that it is blessed that we are persecuted for believing in God, because the reward which was given by God is great. God's words say: "Have you ever accepted the blessings that you were given? Have you ever sought the promises that you were made? You will surely, under the guidance of My light, break through the stranglehold of the forces of darkness. You will surely not, in the midst of darkness, lose the light guiding you. You will surely be the master of all creation. You will surely be an overcomer before Satan. You will surely, at the downfall of the kingdom of the great red dragon, stand up amid the myriad throngs to bear witness to My victory. You will surely be resolute and unwavering in the land of Sinim. Through the sufferings you endure, you will inherit the blessing that comes from Me, and will surely irradiate within the entire universe with My glory" ("The Nineteenth Utterance" of God's Utterances to the Entire Universe in The Word Appears in the Flesh). It is the end time now, the Lord Jesus also prophesied that there will be great disasters in the last days. When we are able to bear resounding testimony in the great tribulation and to be an overcomer before Satan, we are to be qualified for God's blessing.
» You may be interested in reading more:
• Why Do They Persist in Preaching the Gospel Despite Persecution
• 4 Steps to Magnify the Lord in Your Life – Daily Practice
Join our Bible study group!
Are you willing to take 10 minutes to pray to God and read His words? Join our group now!