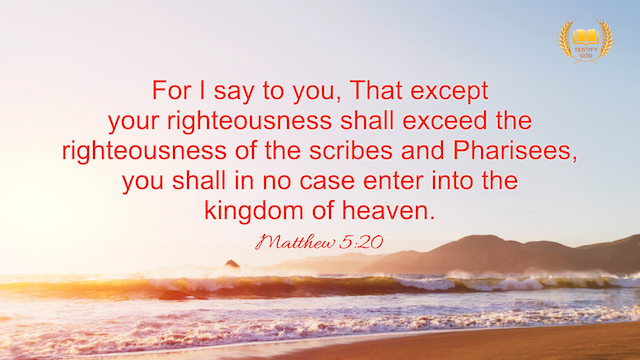 Matthew 5:20
"For I say to you, That except your righteousness shall exceed the righteousness of the scribes and Pharisees, you shall in no case enter into the kingdom of heaven."
Reflection
"In the Age of Law, the Pharisees were proficient in the law of Moses, and kept all the rituals of the law and ancient traditions. However, they paid no attention to seeking God's will so that all they had done betrayed God's will. The Lord Jesus revealed the sins of the scribes and Pharisees. They were hypocrites who pretended to be very reverent in the hope of being praised by others. They used various rules and man's traditions to replace God's requirements of man. They explained the law in the temple and asked the common people to abide by it, while they themselves violated the law, devouring the widows' houses and killing the prophets. They didn't accept the way preached by the Lord Jesus. Instead, they deceived the Israelites and hindered them from following the Lord. In fear of that others would follow the Lord Jesus after hearing the way of the Lord Jesus, they bore false witness to frame Jesus Christ, and even murdered Him.… The evil they had done was detested by God, and also showed us the reason why the Pharisees and scribes couldn't enter the kingdom of heaven.
We Christians should exceed the righteousness of the scribes and Pharisees, then we can enter the kingdom of heaven. The Lord Jesus' words clearly told us the requirements to enter the kingdom of heaven: "Not every one that said to me, Lord, Lord, shall enter into the kingdom of heaven; but he that does the will of my Father which is in heaven" (Matthew 7:21). "Be you holy; for I am holy" (1 Peter 1:16). These verses tell us that God does not look at how much work we have done, but only sees our hearts, and sees whether we do things according to His words and demands. Only thus can we exceed the righteousness of the scribes and Pharisees, and enter the kingdom of heaven."
» You may be interested in reading more:
• How to Welcome the Lord's Return to Be After God's Will
• What Is Following God's Will?
Chat With Us!
You are welcome to join our devotional group to explore the issues of faith such as how to welcome the Lord's return, how to increase one's faith, how to rely on God and get close to God, how to know God, and how to read God's words.
Discuss in WhatsApp group
Connect with us on Messenger
Please read and agree to our privacy policy below to start chatting with us.