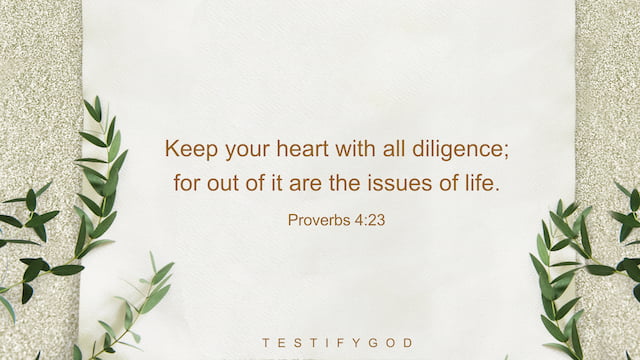 Today's Gospel
Keep your heart with all diligence; for out of it are the issues of life. – Proverbs 4:23
Reflection
In today's verse, it mentioned that we should keep our hearts, Then why does here stress the importance of keeping our hearts?
Most of the time, our deeds reflect our thoughts. No matter in life or work, when we have conflicts with others, we will easily develop prejudices against them, and even grudge them as time goes by. If we don't keep our hearts, it's easy for us to harm others. So what should we do to keep our hearts?
Jesus said, "And all things, whatever you shall ask in prayer, believing, you shall receive" (Mat 21:22). God is almighty. We can ask Him to keep our hearts so that we can overcome Satan's temptations and not do things based on our hot-bloodedness. There's a passage saying like this, "Through mankind's cries God gives them what they need, but He does not 'reside' within them at first. He just constantly gives them aid because of their cries and people gain hardiness from that internal strength so that Satan dare not come here to 'play' at its will. This way, if people constantly connect with God's Spirit, Satan dare not come to disrupt." When we call on God sincerely, He will surely help us.
» Recommended for you:
• Building a Good Relationship Is Not a Problem Anymore
• 4 Tips for Christians to Get Along With People and Build a Good Relationship
• 3 Principles of Prayer Help You Keep Temper
Chat With Us!
Do you want to welcome the Lord and be raptured into the heavenly kingdom? Are you confused by the problems in your belief? You are welcome to contact us in the following ways.