God's Kingdom on Earth – Reflection on Revelation 21:3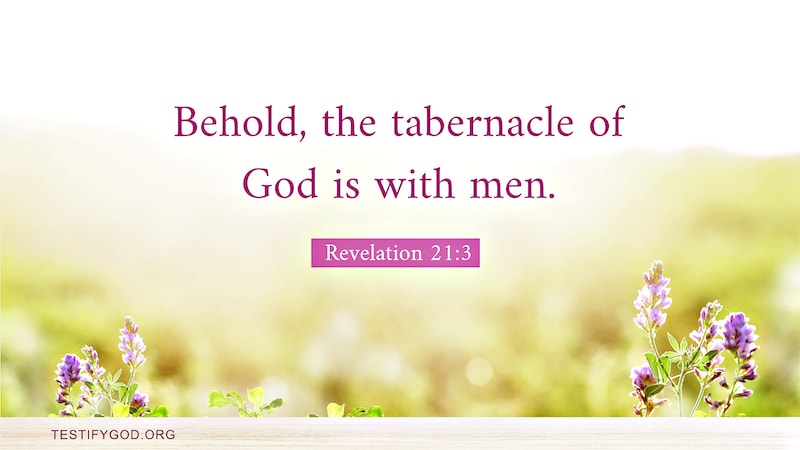 Today's Gospel
And I heard a great voice out of heaven saying, Behold, the tabernacle of God is with men, and He will dwell with them, and they shall be His people, and God Himself shall be with them, and be their God.  - Revelation 21:3
Reflection
Recently, I came across a video on the Internet. It's about a debate on whether the place that God has prepared for mankind is on earth or in heaven. In this debate, it mentioned that God made mankind out of clay. He tasked them with doing their duty on earth and managing the rest of His creations. He demanded that they obey, worship, and honor Him, and mandated that their place was on the earth, not in heaven. Moreover, many verses in the Bible have clearly told us that God will establish His kingdom upon the earth. The Lord Jesus said, "After this manner therefore pray you: Our Father which are in heaven, Hallowed be Your name. Your kingdom come, Your will be done in earth, as it is in heaven" (Matthew 6:9–10). Revelation 21:2–3, "And I John saw the holy city, new Jerusalem, coming down from God out of heaven…. Behold, the tabernacle of God is with men, and He will dwell with them, and they shall be His people, and God Himself shall be with them, and be their God." Revelation 11:15, "The kingdoms of this world are become the kingdoms of our Lord, and of His Christ; and He shall reign for ever and ever." And Revelation 3:12, "Him that overcomes will I make a pillar in the temple of My God, and he shall go no more out: and I will write on him the name of My God, and the name of the city of My God, which is new Jerusalem, which comes down out of heaven from My God: and I will write on him My new name." From these words, we can see that God will establish His kingdom upon the earth. He will dwell with us humans on earth and the kingdoms of earth must be transformed into kingdoms ruled by Christ forever. Through this video, I not only understand a mystery, but also realize that we should understand the Bible according to the Lord's words and His will. Our understanding is easy to be mixed with our notions and imaginations if we understand the Bible based on our own will.
Let's share some of God's words, "When humanity has been restored to their original likeness, when humanity can fulfill their respective duties, keep their own place and obey all of God's arrangements, God will have obtained a group of people upon the earth who worship Him, and He will also have established a kingdom upon the earth that worships Him. He will have eternal victory upon the earth, and those who are opposed to Him will perish for all eternity. This will restore His original intention in creating man; it will restore His intention in creating all things, and it will also restore His authority upon earth, His authority among all things and His authority among His enemies. These are the symbols of His total victory. Henceforth humanity will enter into rest and enter into a life that follows the right track. God will also enter into eternal rest with man and enter into an eternal life shared by God and man. The filth and disobedience upon the earth shall disappear, as shall the wailing upon the earth. All upon the earth that opposes God will not exist. Only God and those people that He has saved shall remain; only His creation shall remain" ("God and Man Will Enter Into Rest Together").
» You may be interested in reading more on our Gospel Topics page about Kingdom of God, or in the articles below:
Join our Bible study group!
Are you willing to take 10 minutes to pray to God and read His words? Join our group now!