Sermon: What and Where Is the Kingdom of God?
In the Bible, the Lord Jesus said, "I go to prepare a place for you. And if I go and prepare a place for you, I will come again, and receive you to myself; that where I am, there you may be also" (John 14:2–3).
The Lord Jesus said He went to prepare a place for those who have faith in Him, and that if it had been prepared He would come again and take the believers to the kingdom of heaven. This is true. But what does the kingdom of heaven refer to? Where exactly is the kingdom of heaven?Let's look at the Lord's Prayer that the Lord Jesus taught us to memorize: "Our Father which are in heaven, Hallowed be your name. Your kingdom come, Your will be done in earth, as it is in heaven" (Matt 6: 9–10). The Lord Jesus told us clearly that God's kingdom is on earth, not in heaven; God's will will be done on earth just as it is in heaven. It also says in Revelation 21: 2–3, "And I John saw the holy city, new Jerusalem, coming down from God out of heaven … Behold, the tabernacle of God is with men, and he will dwell with them, and they shall be his people, and God himself shall be with them, and be their God." Then let's go to Revelation 11:15, "And the seventh angel sounded; and there were great voices in heaven, saying, The kingdoms of this world are become the kingdoms of our Lord, and of his Christ; and he shall reign for ever and ever." These verses are enough to prove that it is on earth that God will establish His kingdom; it is on earth that man will attend the feast with God. If, according to our notions and imaginations, the kingdom of heaven is in heaven and the Lord will come to receive us to heaven, aren't these prophecies in vain? As we all know, in the first beginning God created man on earth and then He allowed them to perform their duties and rule over all things on earth, and allowed them to obey Him, worship and glorify Him on earth. This is ordained by God. Moreover, from beginning to end, God has been working and saving man on earth. And man also has always lived their lives on earth.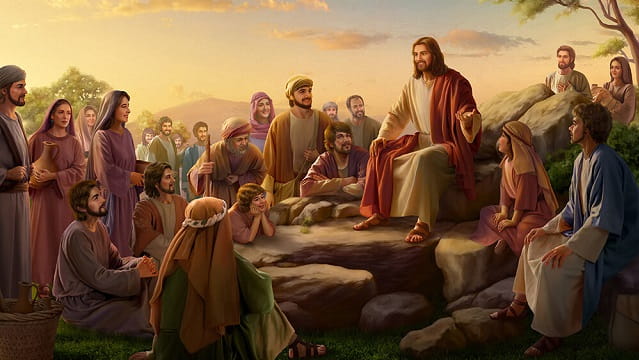 A passage of word says, "When God and man enter into rest together, it will mean that humanity has been saved and that Satan has been destroyed, that God's work among man has finished entirely. God will no longer continue to work among man, and man will no longer live under Satan's domain. Therefore, God will no longer be busy, and man will no longer rush about; God and man will enter into rest simultaneously. God will return to His original position, and each person will return to his or her respective place. These are the destinations that God and man will respectively reside in after the end of God's entire management. God has God's destination, and man has man's destination. While resting, God will continue to guide all of humanity in their lives upon earth. While in God's light, man will worship the one true God in heaven. … When humanity enters into rest, it means that man has become a true creation; humanity will worship God from upon the earth and have normal human lives. People will no longer be disobedient to God or resist God; they will return to the original life of Adam and Eve. These are the respective lives and destinations of God and humanity after they enter into rest. Satan's defeat is an inevitable trend in the war between God and Satan. In this way, God's entering into rest after the completion of His management work and man's complete salvation and entrance into rest likewise become inevitable trends. Man's place of rest is on earth, and God's place of rest is in heaven. While man rests, he will worship God and also live upon earth, and while God rests, He will lead the remaining portion of humanity" ("God and Man Will Enter Into Rest Together" in The Word Appears in the Flesh). We can learn from these words: When God's work of saving mankind is completed, He will enter into rest together with man. But because God's substance is different from that of man, their respective rest of places are also different—the rest place of God is in heaven but that of man is still on earth. This is exactly the wonderful destination God prepares for us. At that time, God will lead us mankind on earth from heaven, while we will live our lives of worshiping God on earth. This means that the kingdom of heaven is on earth but not in heaven, and that our final destination is also on earth but not in heaven. This is predestined by God. No one can change it.
The Lord Jesus prophesied, "I have yet many things to say to you, but you cannot bear them now. However, when He, the Spirit of truth, is come, He will guide you into all truth: for He shall not speak of Himself; but whatever He shall hear, that shall He speak: and He will show you things to come" (John 16:12–13). "He that rejects Me, and receives not My words, has one that judges him: the word that I have spoken, the same shall judge him in the last day" (John 12:48). "Who are kept by the power of God through faith to salvation ready to be revealed in the last time" (1 Peter 1:5). From this we can see that the Lord will return again to express the truth, do a stage of work of judgment, impart to us all the truths we've yet to understand, and save us from sin. Only those who are made pure after accepting the judgment and chastisement of God's word of the last days are the people who will remain in the end, namely, the people of the kingdom of heaven. Such people will forever survive on earth and live a life on earth akin to heaven. Therefore, if we want to enter God's kingdom, we must seek God's utterances and words, and accept His judgment work of the last days. Only then can we have the chance to enter the beautiful destination that God has prepared for us humans and inherit His blessing.
You may be interested in reading more about Sermons about Kingdom of God:
Recommended: Gospel Movie "Yearning" Clip: Is the Kingdom of God in Heaven or on Earth?
Join our Bible study group!
Are you willing to take 10 minutes to pray to God and read His words? Join our group now!