After Sodom's Repeated Resistance and Hostility Toward Him, God Utterly Eradicates It
Once we have a general understanding of God's righteous disposition, we can return our attention to the city of Sodom—what God saw as a city of sin. By understanding the substance of this city, we can understand why God wanted to destroy it and why He destroyed it so completely. From this, we can come to know God's righteous disposition.
From a human perspective, Sodom was a city that could fully satisfy man's desire and man's evil. Alluring and bewitching, with music and dancing night after night, its prosperity drove men to fascination and madness. Its evil corroded the hearts of people and bewitched them into degeneration. This was a city where unclean spirits and evil spirits ran amok; it brimmed with sin and murder and was filled with a bloody, putrid scent. It was a city that chilled people to the bone, a city that one would shrink back from. No one in this city—neither man nor woman, neither young nor old—sought the true way; no one yearned for the light or longed to walk away from sin. They lived under Satan's control, corruption and deceit. They had lost their humanity; they had lost their senses, and they had lost man's original goal of existence. They committed countless sins of resistance against God; they refused His guidance and opposed His will. It was their wicked deeds that carried these people, the city and every living thing inside it, step by step, down the path of destruction.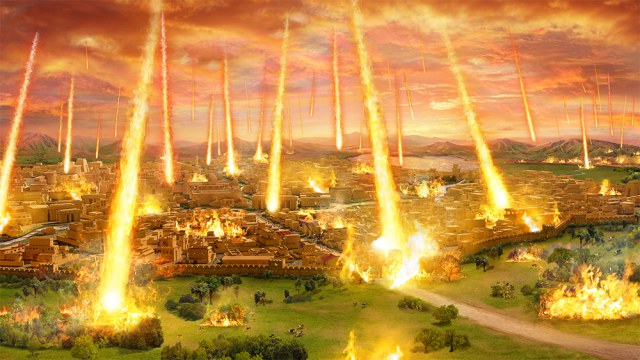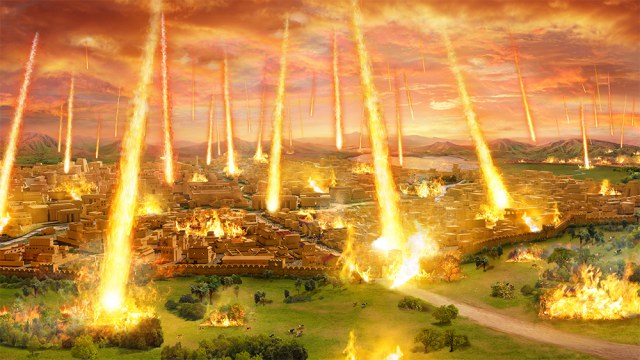 Although these two passages do not record the details describing the extent of the corruption of the people of Sodom, instead recording their conduct toward God's two servants following the latter's arrival in the city, a simple truth can reveal the extent to which the people of Sodom were corrupt, evil and resisted God. With this, the true face and substance of the city's people are also exposed. Not only did they not accept God's warnings, they also did not fear His punishment. To the contrary, they scorned God's anger. They blindly resisted God. No matter what He did or how He did it, their vicious nature only intensified, and they repeatedly opposed God. The people of Sodom were hostile toward God's existence, His coming, His punishment, and even more so, His warnings. They saw nothing else worthwhile around them. They devoured and harmed all people that could be devoured and harmed, and they treated God's servants no differently. In regard to the whole of the wicked deeds committed by the people of Sodom, harming God's servants was only the tip of the iceberg, and their wicked nature that this revealed actually amounted to little more than a drop in a vast sea. Therefore, God chose to destroy them with fire. God did not use a flood, nor did He use a hurricane, earthquake, tsunami or any other method to destroy the city. What did God's use of fire to destroy this city signify? It meant the city's total destruction; it meant that the city vanished entirely from the earth and from existence. Here, "destruction" not only refers to the vanishing of the city's form and structure or outer appearance; it also means that the souls of the people inside the city ceased to exist, having been utterly eradicated. Simply put, all people, events and things associated with the city were destroyed. There would be no afterlife or reincarnation for them; God had eradicated them from humanity, His creation, once and forever. The "use of fire" signified a halt to sin, and it meant an end to sin; this sin would cease to exist and spread. It meant that Satan's evil had lost its nurturing soil as well as the graveyard that granted it a place to stay and to live. In the war between God and Satan, God's use of fire is the brand of His victory with which Satan is marked. Sodom's destruction is a great misstep in Satan's ambition to oppose God by corrupting and devouring men, and it is likewise a humiliating sign of a time in humanity's development when man rejected God's guidance and abandoned himself to vice. Furthermore, it is a record of a true revelation of God's righteous disposition.
When the fire God sent from heaven had reduced Sodom to nothing more than ashes, it meant that the city named "Sodom" would cease to exist, as would everything within the city itself. It was destroyed by God's anger; it vanished under God's wrath and majesty. Because of God's righteous disposition Sodom received its just punishment; because of God's righteous disposition, it received its just end. The end of Sodom's existence was due to its evil, and it was also due to God's desire to never look upon this city again, as well as any of the people who had lived in it or any life that had grown within the city. God's "desire to never look upon the city again" is His wrath, as well as His majesty. God burned the city because its iniquity and sin caused Him to feel anger, disgust and loathing toward it and wish to never see it or any of the people and living things inside it again. Once the city had finished burning, leaving only ashes behind, it had truly ceased to exist in God's eyes; even His memories of it were gone, erased. This means that the fire sent from heaven did not only destroy the entire city of Sodom and the iniquity-filled people inside it, nor did it only destroy all things inside the city that had been stained by sin; even more so, this fire destroyed the memories of humanity's evil and resistance against God. This was God's purpose in burning the city down.
A humanity had become corrupt to the extreme. They did not know who God was or where they had come from. If you mentioned God, these people would attack, slander and blaspheme. Even when God's servants had come to spread His warning, these corrupt people not only showed no signs of repentance; they did not abandon their wicked conduct. To the contrary, they brazenly harmed God's servants. What they expressed and revealed was their nature and substance of extreme enmity toward God. We can see that these corrupt people's resistance against God was more than a revelation of their corrupt disposition, just as it was more than an instance of slandering or mocking stemming from a lack of understanding of the truth. Neither stupidity nor ignorance caused their wicked conduct; it was not because these people had been deceived, and it was certainly not because they had been misled. Their conduct had reached the level of flagrantly brazen antagonism, opposition and uproar against God. Without a doubt, this kind of human behavior would enrage God, and it would enrage His disposition—a disposition that must not be offended. Therefore, God directly and openly released His wrath and His majesty; this is a true revelation of His righteous disposition. Faced with a city overflowing with sin, God desired to destroy it in the swiftest manner possible; He wished to eradicate the people within it and the entirety of their sins in the most complete way, to make this city's people cease to exist and to stop the sin within this place from multiplying. The swiftest and most complete way of doing so was to burn it down with fire. God's attitude toward the people of Sodom was not one of abandonment or disregard; rather, He used His wrath, majesty and authority to punish, strike down and utterly destroy these people. His attitude toward them was one not only of physical destruction but also of destruction of the soul, an eternal eradication. This is the true implication of God's desire for them to "cease to exist."
from God Himself, the Unique II
Chat With Us!
You are welcome to join our devotional group to explore the issues of faith such as how to welcome the Lord's return, how to increase one's faith, how to rely on God and get close to God, how to know God, and how to read God's words.