Faithful in the Little Things – Reflection on Luke 16:10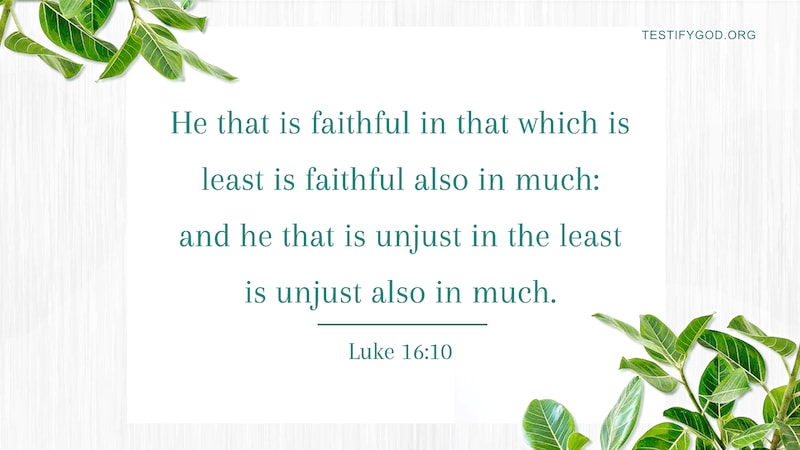 Today's Gospel
He that is faithful in that which is least is faithful also in much: and he that is unjust in the least is unjust also in much. - Luke 16:10
Reflection
If we can practice the truth in small matters, then even if we cannot overcome some big problems, as long as we truly pray and rely on God, He will protect us so that we can stand firm. Many times, we follow our own will to deal with the small matters and are good at forgiving ourselves. We believe that we don't need to care about these small matters because God doesn't care, and it's enough when we stand witness in serious circumstances, thus we miss the opportunities to satisfy God again and again. However, when the serious circumstances come upon us and touch on our interests, it's impossible for us to stand witness.
Share a passage of God's words, "Everything that happens to people is when God needs them to stand firm in their testimony to Him. Nothing major has happened to you at the moment, and you do not bear great testimony, but every detail of your daily life relates to the testimony to God. If you can win the admiration of your brothers and sisters, your family members, and everyone around you; if, one day, the unbelievers come, and admire all that you do, and see that all that God does is wonderful, then you will have borne testimony. Although you have no insight and your caliber is poor, through God's perfection of you, you are able to satisfy Him and be mindful of His will. Others will see what great work He has done in people of the poorest caliber. People come to know God, and become overcomers before Satan and loyal to God to an extent. So none will have more backbone than this group of people. This will be the greatest testimony. Although you are incapable of doing great work, you are able to satisfy God. Others can't put aside their conceptions, but you can; others can't bear testimony to God during their actual experiences, but you can use your actual stature and actions to repay God's love and bear resounding testimony to Him. Only this counts as actually loving God. … If you always practice in this way, God will open up a path before you. When, one day, a great trial comes, others will fall down, but you will still be able to stand firm: Because of the price you have paid, God will protect you so you can stand firm and not fall down. If, ordinarily, you are able to put the truth into practice and satisfy God with a heart that truly loves Him, then God will surely protect you during future trials. Though you are foolish and of little stature and poor caliber, God will not discriminate against you. It depends on whether your motivations are right. Today, you are able to satisfy God, in which you are attentive to the smallest detail, you satisfy God in all things, you have a heart that truly loves God, you give your true heart to God, and although there are some things that you can't understand, you can come before God to rectify your motivations, and seek God's will, and you do everything needed to satisfy God. Perhaps, your brothers and sisters will abandon you, but your heart will be satisfying God, and you will not covet the pleasures of the flesh. If you always practice in this way, you will be protected when great trials come upon you."
Prayer: O God! May You give me confidence. No matter on great or small things I meet with, I'm willing to practice according to Your will and be a person who can satisfy Your will.