The Sin of Blasphemy Against the Holy Spirit Shall Never Be Forgiven – Reflection on Matthew 12:31-32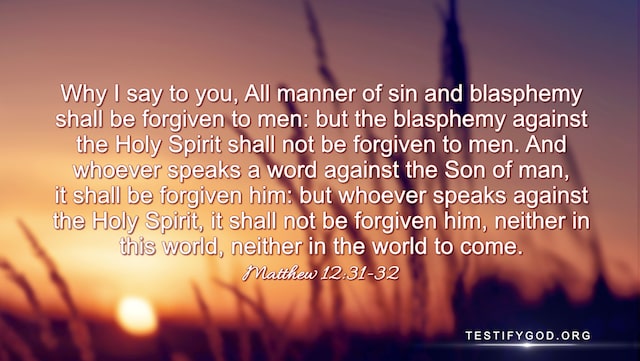 Today's Gospel
Why I say to you, All manner of sin and blasphemy shall be forgiven to men: but the blasphemy against the Holy Spirit shall not be forgiven to men. And whoever speaks a word against the Son of man, it shall be forgiven him: but whoever speaks against the Holy Spirit, it shall not be forgiven him, neither in this world, neither in the world to come. — Matthew 12:31–32
Reflection
The Lord Jesus' words tell us that mankind's all manner of sin shall be forgiven, but the blasphemy against the Holy Spirit shall never be forgiven in neither this world nor the next. From this we can see God's unoffendable disposition as well as His attitude toward people, matters and things and principles for handling them. Just as God's words say, "God's treatment of people who blaspheme or resist Him, or even those who malign Him—people who intentionally attack, malign, and curse Him—He does not turn a blind eye or a deaf ear. He has a clear attitude toward them. He despises these people, and in His heart He condemns them. He even openly declares the outcome for them, so that people know that He has a clear attitude toward those who blaspheme Him, and so that they know how He will determine their outcome." From God's words we recognized that though God is merciful and loving, He also has dignity. If we deliberately oppose and blaspheme God, we can only be punished by Him at last. Just as the Pharisees, they merely blindly opposed and blasphemed the Lord Jesus' work, and even nailed Him to the cross. In the end, they were punished by God and suffered the loss of their nation.
» You may be interested in reading more:
Join our Bible study group!
Are you willing to take 10 minutes to pray to God and read His words? Join our group now!