We Should Bear Witness to God in Persecutions – Gospel Reflection on Matthew 5:11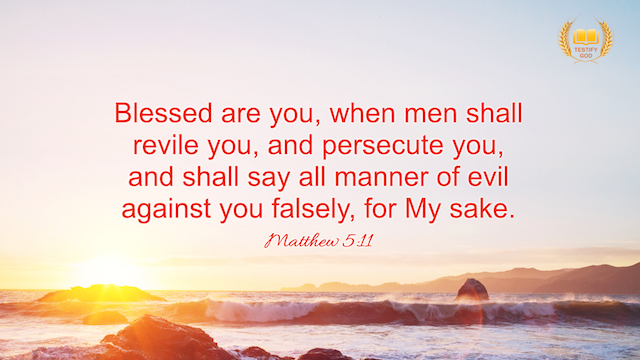 Today's Gospel
Blessed are you, when men shall revile you, and persecute you, and shall say all manner of evil against you falsely, for my sake. -Matthew 5:11
Reflection
Instances of Christians being persecuted were and still are very common. The Lord Jesus said, "If the world hate you, you know that it hated me before it hated you." When the Lord Jesus came to work, the Pharisees resisted and condemned Him on the basis of His appearance and work that didn't conform to their notions. Even though they knew that the Lord Jesus' words had truth and authority, they refused to accept them for they were not in line with the words of the Bible, and they tempted Him and tried to find fault with Him. Meanwhile, to protect their positions and livelihoods, they not only restricted believers from following the Lord Jesus, but wantonly maligned and slandered the Lord Jesus. In the end, they nailed Him to the cross. This exposed their truth-hating and God-hating nature and substance. Just because of this, they also hated those pursuing the truth and seeking the light, thus many apostles and missionaries who followed the Lord Jesus were persecuted. What's even worse, Christians suffered even greater persecution in China, where the atheistic party is in power and has been seriously persecuting religious belief. However, God's wisdom is exercised based upon Satan's schemes; He uses these environments to perfect us.
God's words say, "Perhaps you all remember these words: 'For our light affliction, which is but for a moment, works for us a far more exceeding and eternal weight of glory.' In the past, you have all heard this saying, yet none understood the true meaning of the words. Today, you know well the real significance they hold. These words are what God will accomplish in the last days. And they will be accomplished upon those cruelly afflicted by the great red dragon in the land where it lies. The great red dragon persecutes God and is the enemy of God, so in this land, those who believe in God are subjected to humiliation and persecution. That is why these words will become reality in you group of people. As the work is carried out in a land that opposes God, all of His work is met with inordinate hindrance, and many of His words cannot be accomplished in good time; hence, people are refined because of the words of God. This too is an element of suffering. It is greatly arduous for God to carry out His work in the land of the great red dragon, but it is through such difficulty that God does a stage of His work to make manifest His wisdom and wondrous deeds. God takes this opportunity to make this group of people complete." From God's words we can see that the suffering we have undergone because of believing in God is commemorated by God. Through these environments, He tempers our faith, allowing us to gain the truth as our life, stand witness for Him, and overcome Satan's temptation and attack, so as to be qualified for His promises and blessings.
» Read more on our Persecution Testimonies page, or click on the related articles below:
• When Forced by the CCP Police to Choose Between Her Belief in God and Her Son's Future …
• A Young Christian's Story: How I Grew Under Persecution and Tribulations
» Most people also watch Christian Movie: "Faith in God 2 – After the Church Falls" – The True Story of Chinese Christians
Join our Bible study group!
Are you willing to take 10 minutes to pray to God and read His words? Join our group now!