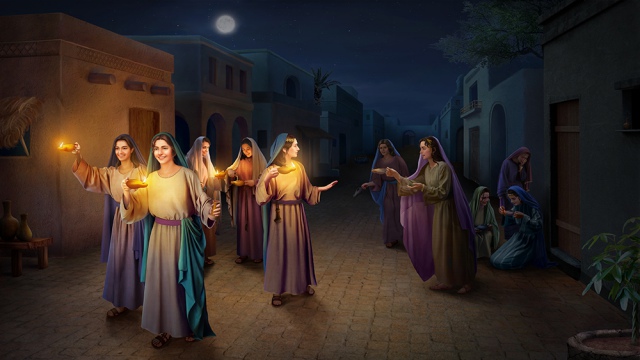 Bible Verses for Reference:
"shall the kingdom of heaven be likened to ten virgins, which took their lamps, and went forth to meet the bridegroom. … But the wise took oil in their vessels with their lamps. … And at midnight there was a cry made, Behold, the bridegroom comes; go you out to meet him. Then all those virgins arose, and trimmed their lamps. … and they that were ready went in with him to the marriage: and the door was shut" (Mat 25: 1, 4, 6-7, 10).
"My sheep hear my voice, and I know them, and they follow me" (Jhn 10:27).
"These are they which follow the Lamb wherever he goes" (Rev 14:4).
"For the Lamb which is in the middle of the throne shall feed them, and shall lead them to living fountains of waters: and God shall wipe away all tears from their eyes" (Rev 7:17).
"Ask, and it shall be given you; seek, and you shall find; knock, and it shall be opened to you" (Mat 7:7).
Classic Words of God:
Five wise virgins mean the number of people…. This is the reason why they have been asked to prepare oil in the last days. (The creation does not possess My quality; if they want to make wise ones then they need to prepare oil, and thus they need to be equipped with My words.) The five wise virgins represent My sons and My people among the humans that I created. Addressing them[a] "virgins" is because although they are born on earth, they are still gained by Me; one can say they have become holy, so they are called "virgins."
from Utterances and Testimonies of Christ in the Beginning
Today, all those who follow the present words of God are in the stream of the Holy Spirit; … "Following the work of the Holy Spirit" means understanding the will of God today, being able to act in accordance with the present requirements of God, being able to obey and follow the God of today, and entering in accordance with the newest utterances of God. Only this is someone who follows the work of the Holy Spirit and is in the stream of the Holy Spirit. Such people are not only capable of receiving God's praise and seeing God, but can also know God's disposition from the latest work of God, and can know man's conceptions and disobedience, and man's nature and substance, from His latest work; furthermore, they are able to gradually achieve changes in their disposition during their service. Only people such as this are those who are able to gain God, and who have genuinely found the true way. …
All who are able to obey the present utterances of the Holy Spirit are blessed. It does not matter how they used to be, or how the Holy Spirit used to work within them—those who have gained the latest work are the most blessed, and those who are unable to follow the latest work today are eliminated. God wants those who are able to accept the new light, and He wants those who accept and know His latest work. Why is it said that you must be a chaste virgin? A chaste virgin is able to seek the work of the Holy Spirit and understand the new things, and moreover, able to put aside old conceptions, and obey the work of God today. This group of people, who accept the newest work of today, were predestined by God before the ages, and are the most blessed of people. You hear the voice of Goddirectly, and behold the appearance of God, and so, throughout heaven and earth, and throughout the ages, none have been more blessed than you, this group of people.
from "Know the Newest Work of God and Follow the Footsteps of God"
Since man believes in God, he must closely follow the footsteps of God, step-by-step; he should "follow the Lamb wherever He goes." Only these are the people who seek the true way, only they are the ones who know the work of the Holy Spirit. People who slavishly follow letters and doctrines are those who have been eliminated by the work of the Holy Spirit. In each period of time, God will begin new work, and in each period, there will be a new beginning among man. If man only abides by the truths that "Jehovah is God" and "Jesus is Christ," which are truths that only apply to a single age, then man will never keep up with the work of the Holy Spirit, and will forever be incapable of gaining the work of the Holy Spirit. Regardless of how God works, man follows without the slightest doubt, and he follows closely. In this way, how could man be eliminated by the Holy Spirit? Regardless of what God does, as long as man is certain that it is the work of the Holy Spirit, and cooperates in the work of the Holy Spirit without any misgivings, and tries to meet the requirements of God, then how could he be punished? The work of God has never ceased, His footsteps have never halted, and prior to the completion of His work of management, He has always been busy, and never stops.
from "God's Work and Man's Practice"
God seeks those who long for Him to appear. He seeks those who are able to hear His words, those who have not forgotten His commission and offer up their heart and body to Him. He seeks those who are as obedient as babes before Him, and do not resist Him. If you are unhindered by any force in your devotion to God, then God shall look upon you with favor, and shall bestow His blessings upon you. If you are of high station, of honorable reputation, possessed of abundant knowledge, the owner of plentiful assets, and supported by many people, yet these things do not prevent you from coming before God to accept His calling and His commission, to do what God asks of you, then all that you do shall be the most significant on earth and the most righteous of mankind.
from "God Presides Over the Fate of All Mankind"
» You may be interested in reading more:
• How to Be Wise Virgins to Welcome Second Coming of Jesus
Chat With Us!
You are welcome to join our devotional group to explore the issues of faith such as how to welcome the Lord's return, how to increase one's faith, how to rely on God and get close to God, how to know God, and how to read God's words.
Discuss in WhatsApp group
Connect with us on Messenger
Please read and agree to our privacy policy below to start chatting with us.