15 Bible Verses about the Almighty
Psalm 24:1
The earth is the LORD's, and the fullness thereof; the world, and they that dwell therein.
Psalm 80:19
Turn us again, O LORD God of hosts, cause your face to shine; and we shall be saved.
Psalm 91:1-2
He that dwells in the secret place of the most High shall abide under the shadow of the Almighty. I will say of the LORD, He is my refuge and my fortress: my God; in him will I trust.
Psalm 139:4
For there is not a word in my tongue, but, see, O LORD, you know it altogether.
Psalm 145:3
Great is the LORD, and greatly to be praised; and his greatness is unsearchable.
1 Chronicles 29:11
Yours, O LORD is the greatness, and the power, and the glory, and the victory, and the majesty: for all that is in the heaven and in the earth is yours; your is the kingdom, O LORD, and you are exalted as head above all.
Jeremiah 32:17
Ah Lord GOD! behold, you have made the heaven and the earth by your great power and stretched out arm, and there is nothing too hard for you:
Jeremiah 32:27
Behold, I am the LORD, the God of all flesh: is there any thing too hard for me?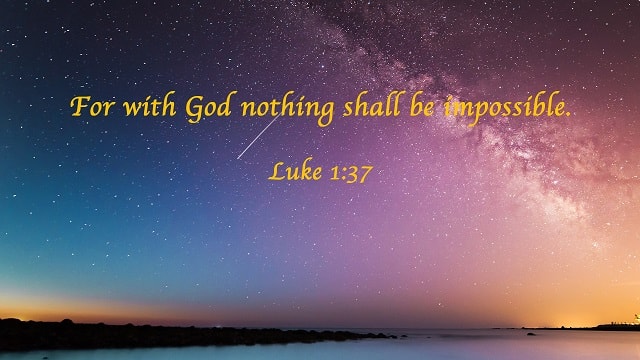 Luke 1:37
For with God nothing shall be impossible.
Revelation 1:8
I am Alpha and Omega, the beginning and the ending, said the Lord, which is, and which was, and which is to come, the Almighty.
Ephesians 6:10
Finally, my brothers, be strong in the Lord, and in the power of his might.
Daniel 2:22
He reveals the deep and secret things: he knows what is in the darkness, and the light dwells with him.
Ezekiel 34:26
And I will make them and the places round about my hill a blessing; and I will cause the shower to come down in his season; there shall be showers of blessing.
1 Samuel 2:7
The LORD makes poor, and makes rich: he brings low, and lifts up.
Most people also read: Put Aside Our Views of "Impossible"
Peace be with you all! Dear brothers and sisters, if you have any understanding or enlightenment from God, you're welcome to share with us.
1. Via the online chat window at the bottom right corner of the screen.
2. Send an email to info@testifygod.org.
We sincerely hope we'll grow spiritually through sharing with each other.