There Are God's Blessings in Trials. Have You Felt It?
Speaking of God's blessings, all brothers and sisters in the Lord are familiar with them. Because regardless of whether we plead for a cure for our illnesses or for having a beautiful and happy family, or hope that we can have a prosperous career, have children and grandchildren, and so forth, God answers many times. But do God's blessings begin and end right here? Do you know what the greater blessings God bestows upon man are?
Now, let's search for the answers from some persons praised by God. After you read their experiences, you will surely find they share one thing in common.
After living in the wilderness for forty years, Moses was much used by God.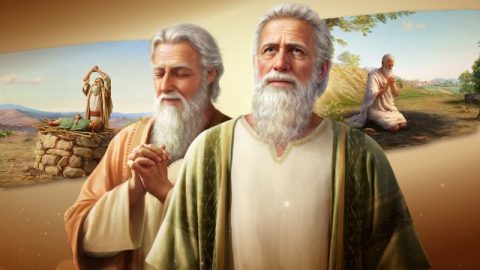 As everyone knows, Moses flared up easily before he was used by God. He couldn't watch an Israelite compatriot be flogged by an Egyptian soldier, so he stoned that soldier to death. In order to temper him so that he could shoulder the burden of leading the Israelites out of Egypt, God put him in the wilderness for forty years. During these years, every day he could only live with sheep; he suffered the pain of being reduced from an Egyptian prince to a shepherd. But because of undergoing the 40-year pain of refinement, his faith, willpower, will to suffer hardship and obedience to God were shaped. And so, he was qualified to be used by God and undertake the great responsibility of leading the Israelites out of Egypt.
God's words say, "Behold, I have refined you, but not with silver; I have chosen you in the furnace of affliction" (Isa 48:10). From this, we can see that hardship and refinement are the special blessings bestowed by God.
Abraham gained God's blessings due to his offering up Isaac.
When Abraham was 100, God bestowed upon him a son. He, who had a son late in life, treated Isaac as a precious treasure. However, one day, God said to Abraham, "Take now your son, your only son Isaac, whom you love, and get you into the land of Moriah; and offer him there for a burnt offering on one of the mountains which I will tell you of" (Gen 22:2). How did Abraham treat this? The Bible says, "And Abraham rose up early in the morning, and saddled his ass, and took two of his young men with him, and Isaac his son, and split the wood for the burnt offering, and rose up, and went to the place of which God had told him" (Gen 22:3). Abraham didn't reason with God, but instead obeyed God's command, suffered the pain to offer his son to God. Until the moment that he lifted up his knife to slay Isaac, the messenger of God stopped him. God saw his sincerity in absolutely obeying God and ultimately said, "That in blessing I will bless you, and in multiplying I will multiply your seed as the stars of the heaven, and as the sand which is on the sea shore" (Gen 22:17). Because of Abraham's faith and obedience, he stood testimony for God in the bitter trial and thus gained God's greater blessings: He would become the father of many nations and his descendants would be numerous, which is inseparable from God's trial of him at that time.
Job stood witness during his trials, so God blessed him doubly.
When Job was faced with the attacks and temptations of Satan, although all his property and children were taken away, he didn't blame God at all. Instead, he rent his mantle, fell down on the ground, saying, "Jehovah gave, and Jehovah has taken away; blessed be the name of Jehovah" (Job 1:21). When Satan used his wife to attack him, he still maintained his genuine faith in God, saying, "Shall we receive good at the hand of God, and shall we not receive evil?" (Job 2:10). His words shamed Satan and made it turn back. In the end, he stood witness for God. He received God's blessings again. His wealth was doubled, his life expectancy was extended twofold, and he had the most beautiful children in the surrounding cities. So he became a real free man, received God's praise and lived a meaningful life.
Hardships and trials are the best blessings God bestows upon man.
From these facts, we can see that enjoying God's grace is not the same as truly receiving God's best blessing. Just as a passage of words say, "People cannot be perfected by God if they only enjoy His grace. Some are satisfied when their flesh has peace and enjoyment, when their life is easy and without adversity or misfortune, when their whole family lives in harmony, without contention or dispute—and they may even believe this to be the blessing of God. In truth, it is merely God's grace" ("Promises to Those Who Have Been Perfected"). The Bible says, "Blessed is the man that endures temptation: for when he is tried, he shall receive the crown of life, which the Lord has promised to them that love him" (Jas 1:12).
Only when we stand testimony for God in many kinds of trials arranged by God, can we gain God's approval and be blessed by God. For example, sometimes God allows for the torment of illness, the persecution of the satanic regime, the abandonment by relatives, or various kinds of disappointment in life to befall us, which contains the good intentions of God. We should seek God's intentions more and achieve true knowledge of and obedience to God. Only in this way can we truly understand why God makes us undergo this suffering and can we enjoy the true blessings God bestows upon us.
You might be interested in:
• Following 3 Points of Abraham to Gain God's Blessings
• What to Do When You're Losing Faith in God in Setbacks
• What Should We Do When We Face Trials? Learn From the Story of Job