Whether "being caught up" really means being taken into the air or heaven, and whether the heavenly kingdom is on earth or in heaven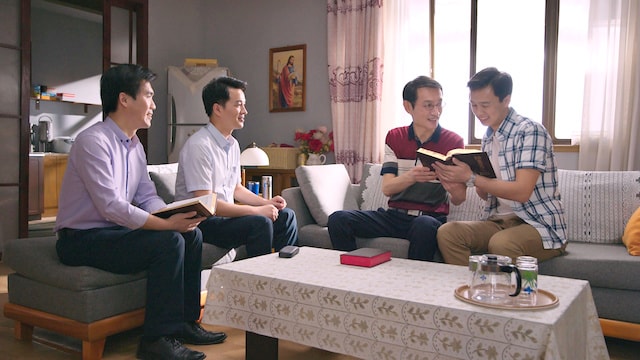 Bible Verses for Reference:
"Our Father which are in heaven, Hallowed be Your name. Your kingdom come, Your will be done in earth, as it is in heaven" (Mat 6:9–10).
"And I John saw the holy city, new Jerusalem, coming down from God out of heaven, prepared as a bride adorned for her husband. And I heard a great voice out of heaven saying, Behold, the tabernacle of God is with men, and He will dwell with them, and they shall be His people, and God Himself shall be with them, and be their God" (Rev 21:2–3).
"The kingdoms of this world are become the kingdom of our Lord, and of His Christ; and He shall reign for ever and ever" (Rev 11:15).
Relevant Words of God:
"Being caught up" does not mean being taken from a low place to a high place, as people might imagine; that is a huge misconception. "Being caught up" refers to My predestining and then selecting. It is directed at all those I have predestined and chosen. All those who are caught up are people who have gained the status of firstborn sons or sons, or who are God's people. This is most incompatible with people's notions. Those who will have a share in My house in the future are all ones who have been caught up before Me. This is absolutely true, never-changing, and irrefutable. It is a counterattack against Satan. Anyone I predestined shall be caught up before Me.
Excerpted from "Chapter 104" of Utterances of Christ in the Beginning in The Word Appears in the Flesh
God created humans and placed them upon earth, and He has led them ever since. He then saved them and served as a sin offering for humanity. At the end, He still must conquer humanity, save humans entirely, and restore them to their original likeness. This is the work that He has been engaged in ever since the beginning—restoring humanity to their original image and likeness. God will establish His kingdom and restore the original likeness of human beings, which means that God will restore His authority upon earth and among all creation. Humanity lost their God-fearing heart as well as the function incumbent upon God's creatures after being corrupted by Satan, thereby becoming an enemy disobedient to God. Humanity then lived under Satan's domain and followed Satan's orders; thus, God had no way to work among His creatures, and became all the more unable to win their fearful reverence. Humans were created by God, and ought to worship God, but they actually turned their backs on Him and worshiped Satan instead. Satan became the idol in their hearts. Thus, God lost His standing in their hearts, which is to say that He lost the meaning behind His creation of humanity. Therefore, to restore the meaning behind His creation of humanity, He must restore their original likeness and rid humanity of their corrupt dispositions. To reclaim humans from Satan, He must save them from sin. Only in this way can God gradually restore their original likeness and function, and finally, restore His kingdom. The ultimate destruction of those sons of disobedience will also be carried out in order to allow humans to better worship God and better live upon the earth. Because God created humans, He will make them worship Him; because He wishes to restore humanity's original function, He will restore it completely and without any adulteration. Restoring His authority means making humans worship Him and submit to Him; it means that God will make humans live because of Him and cause His enemies to perish as a result of His authority. It means that God will cause everything about Him to persist among humans without resistance from anybody. The kingdom God wishes to establish is His own kingdom. The humanity He desires is one that will worship Him, one that will submit to Him completely and manifest His glory. If God does not save corrupt humanity, then the meaning behind His creation of humanity will be lost; He will have no more authority among humans, and His kingdom will no longer be able to exist upon the earth. If God does not destroy those enemies who are disobedient to Him, He will be unable to obtain His complete glory, nor will He be able to establish His kingdom upon the earth. These will be marks of the completion of His work and of His great accomplishment: to utterly destroy those among humanity who are disobedient to Him, and to bring into rest those who have been made complete. When humans have been restored to their original likeness, and when they can fulfill their respective duties, keep to their own proper places and submit to all of God's arrangements, God will have obtained a group of people upon the earth who worship Him, and He will also have established a kingdom upon the earth that worships Him. He will have eternal victory upon the earth, and all those who are opposed to Him will perish for all eternity. This will restore His original intention in creating humanity; it will restore His intention in creating all things, and it will also restore His authority upon earth, among all things, and among His enemies. These will be the symbols of His total victory. Thenceforth, humanity will enter into rest and begin a life that is on the right track. God will also enter into eternal rest with humanity, and commence an eternal life shared by both Himself and humans. The filth and disobedience upon the earth will have disappeared, and all the wailing will have dissipated, and everything in this world that opposes God will have ceased to exist. Only God and those people to whom He has brought salvation will remain; only His creation will remain.
Excerpted from "God and Man Will Enter Into Rest Together" in The Word Appears in the Flesh
When God and humanity enter into rest together, it means that humanity has been saved and that Satan has been destroyed, that God's work in humans is entirely complete. God will no longer continue to work in humans, and they will no longer live under Satan's domain. As such, God will no longer be busy, and humans will no longer be constantly on the move; God and humanity will enter into rest simultaneously. God will return to His original place, and each person will return to their respective place. These are the destinations in which God and humans will reside once God's entire management is finished. God has God's destination, and humanity has humanity's destination. While resting, God will continue to guide all humans in their lives upon earth, and while in His light, they will worship the one true God in heaven. God will no longer live among humanity, nor will humans be able to live with God in His destination. God and humans cannot live within the same realm; rather, both have their own respective manners of living. God is the One who guides all of humanity, and all of humanity is the crystallization of God's management work. Humans are the ones who are led, and are not of the same substance as God. To "rest" means to return to one's original place. Therefore, when God enters into rest, it means He has returned to His original place. He will no longer live upon the earth or be among humanity to share in their joy and suffering. When humans enter into rest, it means that they have become true objects of creation; they will worship God from upon the earth, and live normal human lives. People will no longer be disobedient to God or resist Him, and will return to the original life of Adam and Eve. These will be the respective lives and destinations of God and humans after they enter into rest. Satan's defeat is an inevitable trend in the war between it and God. As such, God's entering into rest after the completion of His management work and humanity's complete salvation and entrance into rest have likewise become inevitable trends. Humanity's place of rest is on earth, and God's place of rest is in heaven. While humans worship God in rest, they will live upon the earth, and while God leads the rest of humanity in rest, He will lead them from heaven, not from earth.
Excerpted from "God and Man Will Enter Into Rest Together" in The Word Appears in the Flesh
Once the work of conquest has been completed, man will be brought into a beautiful world. This life will, of course, still be on earth, but it will be totally unlike man's life today. It is the life that mankind will have after the whole of mankind has been conquered, it will be a new beginning for man on earth, and for mankind to have such a life will be proof that mankind has entered a new and beautiful realm. It will be the beginning of the life of man and God on earth. The premise of such a beautiful life must be that, after man has been purified and conquered, he submits before the Creator. And so, the work of conquest is the last stage of God's work before mankind enters the wonderful destination. Such a life is man's future life on earth, the most beautiful life on earth, the kind of life that man longs for, the kind that man has never before achieved in the history of the world. It is the final outcome of the 6,000 years of work of management; it is what mankind yearns for most, and it is also God's promise to man.
Excerpted from "Restoring the Normal Life of Man and Taking Him to a Wonderful Destination" in The Word Appears in the Flesh
Read more on our Gospel Topics page about The Rapture, or in the recommended articles below: