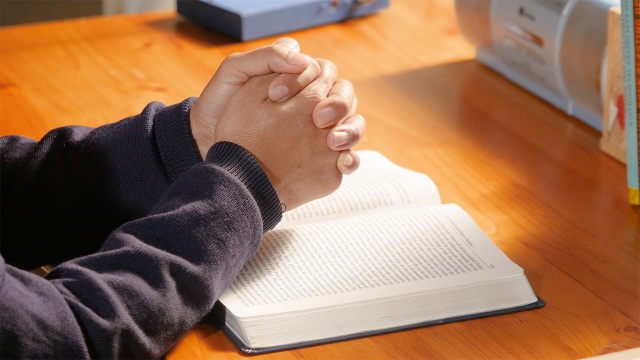 Today's Gospel
Watch and pray, that you enter not into temptation: the spirit indeed is willing, but the flesh is weak.– Matthew 26:41
Reflection
This is the Lord's exhortation for man. He wants to tell us that Satan often uses money, fame and fortune, lustful desires, and so on, to tempt us in this dark, evil generation. So we cannot leave God but watch and pray so Satan will have no opportunity to exploit. Or else, when Satan's temptations come upon us, even if we are willing to satisfy God and act according to God's words, we cannot forsake our flesh but are tempted by Satan, thus being plunged amid Satan's temptation. In the Lord's words, we can understand that the power of prayer is the weapon that will help us defeat Satan. If we often watch and pray, then we can keep a normal relationship with God, gain His care and protection, and overcome Satan's various temptations. God says, "Prayer is one of the ways in which man cooperates with God, it is a means by which man calls upon God, and it is the process by which man is touched by God's Spirit. It can be said that those who are without prayer are dead ones without spirit, proof that they lack the faculties to be touched by God. Without prayer, they are unable to attain a normal spiritual life, much less are they able to follow the work of the Holy Spirit; without prayer, they sever their relationship with God, and are incapable of receiving God's approval. Being someone who believes in God, the more you pray, the more you are touched by God. Such people have greater resolution and are more able to receive the latest enlightenment from God; as a result, only people like this can be made perfect as soon as possible by the Holy Spirit."
After understanding the importance of prayer, we should quiet our hearts before God and offer true prayers to Him. May God look after us and protect us, so that our hearts won't leave Him.
» Read more on our Sermons on Prayer page, or click on the related articles below:
• 3 Principles of Prayer Help You Obtain the Lord's Response Easily
• How to Draw Near to the Lord in a Hectic Work Life
Chat With Us!
You are welcome to join our devotional group to explore the issues of faith such as how to welcome the Lord's return, how to increase one's faith, how to rely on God and get close to God, how to know God, and how to read God's words.
Discuss in WhatsApp group
Connect with us on Messenger
Please read and agree to our privacy policy below to start chatting with us.