Do Not Worry About Tomorrow – Reflection on Matthew 6:34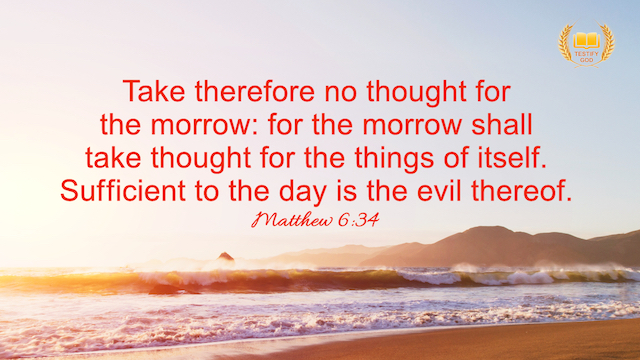 Today's Gospel
Take therefore no thought for the morrow: for the morrow shall take thought for the things of itself. Sufficient to the day is the evil thereof. - Matthew 6:34
Reflection
This is God's exhortation to us. We often worry about our basic necessities, children's prospects and providing for the elderly… The reason for these is that we have no understanding of God's ruling over all things and have no confidence to entrust everything to Him. The Bible said, "Therefore take no thought, saying, What shall we eat? or, What shall we drink? or, Wherewithal shall we be clothed? (For after all these things do the Gentiles seek:) for your heavenly Father knows that you have need of all these things." Actually, God knows clearly our difficulties and necessities. He has prepared for us everything. Before He created mankind, God had created all things that mankind needs. But we don't put our trust in God, we worry a lot about unknown future. Then how should we truly cast away worry and entrust difficulties to God.
Share a paragraph of God's words: "When confronting real-life problems, how should you know and understand God's authority and His sovereignty? When you do not know how to understand, handle, and experience these problems, what attitude should you adopt to show your intention, your desire, and your reality of submitting to God's sovereignty and arrangements? First you must learn to wait; then you must learn to seek; then you must learn to submit. 'Waiting' means waiting for the time of God, awaiting the people, events, and things that He has arranged for you, waiting for His will to gradually reveal itself to you. 'Seeking' means observing and understanding God's thoughtful intentions for you through the people, events, and things that He has laid out, understanding the truth through them, understanding what humans must accomplish and the ways they must keep, understanding what results God means to achieve in humans and what accomplishments He means to attain in them. 'Submitting,' of course, refers to accepting the people, events, and things that God has orchestrated, accepting His sovereignty and, through it, coming to know how the Creator dictates man's fate, how He supplies man with His life, how He works the truth into man. All things under God's arrangements and sovereignty obey natural laws, and if you resolve to let God arrange and dictate everything for you, you should learn to wait, you should learn to seek, you should learn to submit. This is the attitude that every person who wants to submit to God's authority must take, the basic quality that every person who wants to accept God's sovereignty and arrangements must possess. To hold such an attitude, to possess such a quality, you must work harder; and only thus can you enter into the true reality."
O God! I've seen clearly my faith is too immature when the truth is revealed. I cannot entrust everything to You but arrange for myself. May You guide me to experience more Your work so that I can see Your deeds more and learn to truly rely on You, and entrust everything to You. Amen!
Extended Reading: