The Kingdom of Heaven Suffers Violence – Reflection on Matthew 11:12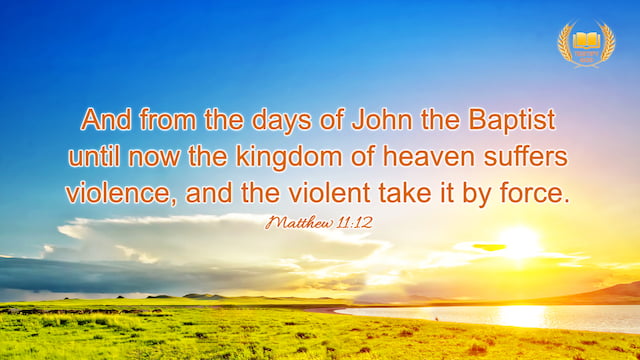 Today's Gospel
And from the days of John the Baptist until now the kingdom of heaven suffers violence, and the violent take it by force. - Matthew 11:12
Reflection
From this verse, we can see the Lord Jesus pointed out the condition to enter into the heavenly kingdom to us: Only by striving hard can we enter into the heavenly kingdom. As Christians, our greatest hope is to be raptured into the heavenly kingdom. How should we strive hard? And toward what direction should we devote our efforts? The Lord Jesus said, "Not every one that said to me, Lord, Lord, shall enter into the kingdom of heaven; but he that does the will of my Father which is in heaven" (Matthew 7:21). And the Bible recorded: "Follow peace with all men, and holiness, without which no man shall see the Lord" (Heb 12:14). It is obvious that only by following God's will, His way, being cleansed and breaking free from corruption can we enter into the kingdom of heaven. But many people don't focus on following God's way or practicing God's words. They believe that as long as they labor for the Lord, abandon other things and spend for the Lord, and spread the gospel, we can enter into the kingdom of heaven. This reminds me of the Pharisees. They wholeheartedly strived to labor for the Lord, compassed land and sea spreading the gospel. They believed that they could be approved by the Lord and enter the heavenly kingdom by doing so. This was the direction they were working toward. In the end, however, their actions were hypocritical in the Lord's eyes. It was because they didn't practice the words of the Lord but wanted to enter into the holy kingdom of God by laboring. This was impossible. Whereas Peter, in the course of following the Lord Jesus, took heed to practice according to the Lord's requests in all things, sought to love and satisfy God. At last, he achieved the ultimate love of God, obeyed unto death, and was nailed upside down on the cross for God's sake, thereby becoming a person after God's heart. Such kind of person would surely live in the heavenly kingdom. Through comparing those two directions, it is not difficult for us to get the answer: Among believers in God following Him, only those who practice the words of the Lord, follow the Lord's way and His will can enter into the heavenly kingdom. This is the only condition to enter the heavenly kingdom. Just as God's words say, "You must know what kind of people I desire; those who are impure are not permitted to enter into the kingdom, those who are impure are not permitted to besmirch the holy ground. Though you may have done much work, and have worked for many years, in the end if you are still deplorably filthy—it is intolerable to the law of Heaven that you wish to enter My kingdom! From the foundation of the world until today, never have I offered easy access to My kingdom to those who curry favor with Me. This is a heavenly rule, and no one can break it!" From God's words, we know that God is righteous and holy, and so is God's kingdom. How can He allow filthy and corrupt people to enter His kingdom? Meanwhile, we see that God's will is to bring those who are saved by Him, who are cleansed and changed, into His kingdom. Having understood God's will, we should seek to follow His will and His way to be cleansed and perfected, thus being able to possess a supreme love of God and obey unto death like Peter. Only then can we become someone after God's heart, and have a place in the heavenly kingdom.
» You may be interested in reading more:
• Sermon: What and Where Is the Kingdom of God?
• Do You Know the Requirements to Enter the Kingdom of God?
• Grasping the 4 Key Elements, You Will Serve God's Will
» Most people also watch Church Skits: "Wishful Thinking": Can We Enter the Kingdom of Heaven by Following Paul?
Join our Bible study group!
Are you willing to take 10 minutes to pray to God and read His words? Join our group now!