Why God Tries the Hearts – Reflection on Proverbs 17:3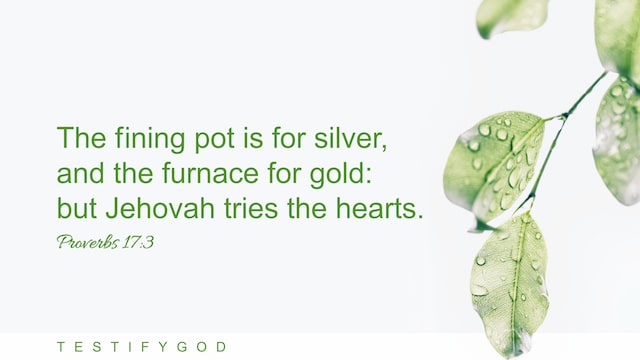 Today's Gospel
The fining pot is for silver, and the furnace for gold: but Jehovah tries the hearts. - Proverbs 17:3
Reflection
The fining pot is for silver, and the furnace for gold, but God uses hardship and refinement to train the people of the kingdom. Although we can understand the meaning of this verse, we are easy to become negative and weak and even complain when we meet with hardships or sickness. This is because we do not understand the significance of God's work of refinement.
God says, "For all people, refinement is excruciating, and very difficult to accept—yet it is during refinement that God makes plain His righteous disposition to man, and makes public His requirements for man, and provides more enlightenment, and more actual pruning and dealing; through the comparison between the facts and the truth, He gives man a greater knowledge of himself and the truth, and gives man a greater understanding of God's will, thus allowing man to have a truer and purer love of God. Such are God's aims in carrying out refinement. All the work that God does in man has its own aims and significance; God does not do meaningless work, nor does He do work that is without benefit to man. Refinement does not mean removing people from before God, nor does it mean destroying them in hell. It means changing man's disposition during refinement, changing his motivations, his old views, changing his love for God, and changing his whole life. Refinement is a real test of man, and a form of real training, and only during refinement can his love serve its inherent function."
It's hard to develop a great life force in a comfortable environment. Actually, what lies behind the hardships is God's will. Moses alone walked into the wilderness, where people thought none could survive, and lived there for forty years by relying on God. Hardships made him learn how to depend on God in all things and allowed his faith in God to become stronger and stronger, so he could walk out of the wild to accept what God entrusted to him. Later, even when he was confronted with the perils, in front of him was the Red Sea, and behind him were the Egyptian soldiers, he was fearless, and led the Israelites out of Egypt by relying on God, and accomplished the job that God had entrusted him with.
In our ordinary lives, whatever troubles or difficulties we may face, do not complain, become depressed or run away, but believe that it is permitted by God and contains His good intentions. God hopes that we can learn how to pray to Him and rely on Him in adversity. As long as we obey God's leadership and words, one day, we can bear witness to God's deeds and repay the grace of His salvation. Then, we will be able to live a life of value and perform our duty as a created being.
If you have any difficulties in faith or life, don't hesitate to chat with us via Messenger. We're glad to pray for you and share the Lord's love with you.