God Gives Good Things to Those Who Ask Him – Gospel Reflection on Matthew 7:11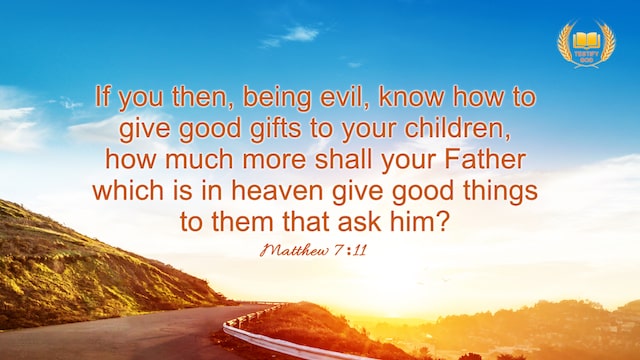 Today's Gospel
If you then, being evil, know how to give good gifts to your children, how much more shall your Father which is in heaven give good things to them that ask him? - Matthew 7:11
Reflection
As a parent, if we have something good, we'll first think of our children and give it to them. This is parental love for children. We man love our children like this, doesn't God's love for us mankind surpass parental love? What God gives is the best. As long as we pray to God, He'll answer our needs.
But sometimes when we pray to God, He doesn't satisfy our desires. For example, we pray to God every day, asking Him to keep us, so that we can live a peaceful and smooth life. However, when things we encounter don't go according to our desires, we'll doubt God, and always think that those bad things shouldn't happen to us. Why is this? In fact, there are God's good intentions behind the things that we believe are not good in our eyes. This is beyond our imagination. Take me as an example. I went to sign a contract some time ago. This contract had something to do with our company's benefits in the second half. But I was stuck in a traffic jam for an accident on my way there, and therefore I missed the time to sign the contract. At that moment, I couldn't help complaining against God because I thought I had prayed and entrusted this matter to Him, and the result shouldn't be like that. Only later did I know: The company with which I was going to sign the contract was a shell corporation. It was fraud. Not long after, it was sealed up. And because of the traffic jam, I was not cheated. Only then did I realize: It was God who orchestrated the traffic jam to stop me from being deceived so that our company avoided loss. But I was too blind to know that it was God's love for me, and I even complained against God. It seemed to be a bad thing, but there was God's love behind it. It was God's protection for me.
God says, "For my thoughts are not your thoughts, neither are your ways my ways, said Jehovah. For as the heavens are higher than the earth, so are my ways higher than your ways, and my thoughts than your thoughts" (Isaiah 55:8-9).
A passage of God's words says, "If you believe in the dominion of God, then you must believe that the things that happen every day, be they good or bad, don't happen accidentally. It is not that someone doesn't get on with you or opposes you on purpose; it is actually all arranged and orchestrated by God." God's thoughts are higher than ours and beyond our imagination. May we come first before God to seek and obey Him in everything that happens around us, no matter whether or not it is in line with our desires, whether it is good or bad in our eyes. Believe that there is God's good intentions in everything and it is God's love for us.
» You may be interested in reading more:
» Further reading on Commentaries on Matthew page.