God Sees the Sincere Repentance Deep in the Ninevites' Hearts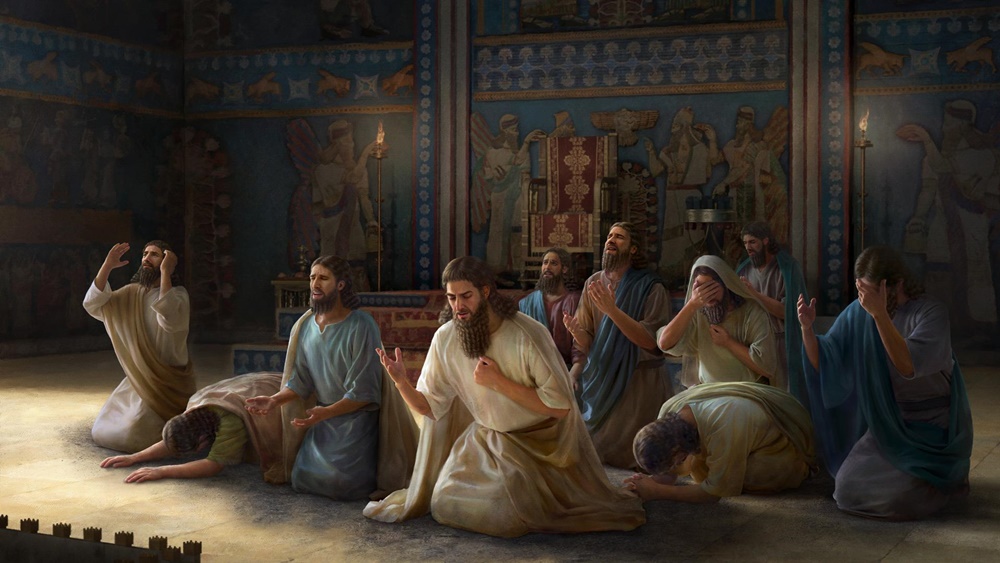 The Stark Contrast Between Nineveh and Sodom's Reaction to Jehovah God's Warning
What does it mean to be overthrown? In colloquial terms, it means to no longer exist. But in what way? Who could overthrow an entire city? It would be impossible for man to perform such an act, of course. The people of Nineveh were no fools; as soon as they heard this proclamation, they got the idea. They knew that the proclamation had come from God, they knew that God was going to perform His work, and they knew that their wickedness had enraged Jehovah God and brought His anger down upon them, so that they would soon be destroyed along with their city. How did the people of the city behave after hearing Jehovah God's warning? The Bible describes in specific detail how the people reacted, from the king down to the commoners. The following words were recorded in the Scriptures: "So the people of Nineveh believed God, and proclaimed a fast, and put on sackcloth, from the greatest of them even to the least of them. For word came to the king of Nineveh, and he arose from his throne, and he laid his robe from him, and covered him with sackcloth, and sat in ashes. And he caused it to be proclaimed and published through Nineveh by the decree of the king and his nobles, saying, Let neither man nor beast, herd nor flock, taste any thing: let them not feed, nor drink water: But let man and beast be covered with sackcloth, and cry mightily to God: yes, let them turn every one from his evil way, and from the violence that is in their hands."
After hearing Jehovah God's proclamation, the people of Nineveh displayed an attitude utterly opposite to that of the people of Sodom—whereas the people of Sodom openly opposed God, proceeding from evil to evil, the Ninevites, after hearing these words, did not ignore the matter, and nor did they resist. Instead, they believed God and declared a fast. What does the word, "believed," mean here? The word itself suggests faith and submission. If we use the Ninevites' actual behavior to explain this word, it means that they believed God could and would do as He said, and that they were willing to repent. Did the people of Nineveh feel fear in the face of imminent disaster? It was their belief that put fear in their hearts. So, what can we use to prove the Ninevites' belief and fear? It is as the Bible says: "[T]hey proclaimed a fast, and put on sackcloth, from the greatest of them even to the least of them." This is to say that the Ninevites truly believed, and that from this belief came fear, which then led them to fast and don sackcloth. This is how they showed that they were beginning to repent. In utter contrast to the people of Sodom, not only did the Ninevites not oppose God, but they also clearly showed their repentance through their behavior and actions. Of course, this was something all the people of Nineveh did, not just the commoners—the king was no exception.
The Repentance of Nineveh's King Wins Jehovah God's Commendation
When the king of Nineveh heard this news, he arose from his throne, took off his robe, dressed himself in sackcloth and sat in ashes. He then proclaimed that no one in the city would be allowed to taste anything, and that no sheep, oxen or any other livestock would be allowed to graze or drink water. Man and livestock alike were to don sackcloth, and the people were to make earnest entreaties to God. The king also proclaimed that every one of them would turn away from their evil ways and forsake the violence in their hands. Judging from this series of actions, the king of Nineveh had true repentance in his heart. This series of actions he took—arising from his throne, casting off his king's robe, wearing sackcloth and sitting in ashes—tells people that the king of Nineveh was laying aside his royal status and donning sackcloth alongside the common people. This is to say that the king of Nineveh did not occupy his royal post to continue his evil way or the violence in his hands after hearing the announcement from Jehovah God; rather, he laid aside the authority he held and repented before Jehovah God. At this moment the king of Nineveh was not repenting as a king; he had come before God to repent and confess his sins as an ordinary subject of God. Moreover, he also told the entire city to repent and confess their sins before Jehovah God in the same manner as he had; additionally, he had a specific plan for how to do so, as seen in the scriptures: "Let neither man nor beast, herd nor flock, taste any thing: let them not feed, nor drink water: … and cry mightily to God: yes, let them turn every one from his evil way, and from the violence that is in their hands." As the city's ruler, the king of Nineveh possessed supreme status and power, and could do anything he wished to. When faced with Jehovah God's announcement, he could have ignored the matter or simply repented and confessed his sins alone; as for whether or not the people in the city chose to repent, he could have completely ignored the matter. However, the king of Nineveh did not do this at all. Not only did he arise from his throne, wear sackcloth and ashes and repent and confess his sins before Jehovah God, but he also ordered all people and livestock within the city to do the same. He even ordered the people to "cry mightily to God." Through this series of actions, the king of Nineveh truly accomplished that which a ruler should. His series of actions is one that was difficult for any king in human history to achieve, and indeed, no other king achieved these things. These actions can be called unprecedented in human history, and they are worthy of being both commemorated and imitated by mankind. Since the dawn of man, every king had led his subjects to resist and oppose God. No one had ever led his subjects to entreat God to seek redemption for their wickedness, receive Jehovah God's pardon and avoid imminent punishment. The king of Nineveh, however, was able to lead his subjects to turn to God, to leave their respective evil ways behind and abandon the violence in their hands. Furthermore, he was also able to put aside his throne, and in return, Jehovah God had a change of mind and felt regret, retracting His wrath and allowing the people of the city to survive, keeping them from destruction. The king's actions can only be called a rare miracle in human history, and even a model example of corrupt humanity repenting and confessing their sins before God.
God Sees the Sincere Repentance Deep in the Ninevites' Hearts
After hearing God's declaration, the king of Nineveh and his subjects performed a series of actions. What was the nature of these actions and of their behavior? In other words, what was the essence of their conduct in its entirety? Why did they do what they did? In God's eyes they had sincerely repented, not only because they had made earnest entreaties to God and confessed their sins before Him, but also because they had abandoned their wicked conduct. They acted in this way because after hearing God's words, they were incredibly frightened and believed that He would do as He said. By fasting, wearing sackcloth and sitting in ashes, they wished to express their willingness to reform their ways and refrain from wickedness, and they prayed to Jehovah God to restrain His anger, entreating Him to withdraw His decision and the catastrophe bearing down upon them. If we examine all of their behavior, we can see that they already understood that their previous wicked acts were detestable to Jehovah God, and we can see too that they understood the reason why He would soon destroy them. This is why they all wished to make a full repentance, to turn away from their evil ways and abandon the violence in their hands. In other words, once they became aware of Jehovah God's declaration, each and every one of them felt fear in their hearts; they discontinued their wicked conduct and no longer committed those acts that were so detestable to Jehovah God. Additionally, they entreated Jehovah God to forgive their past sins and to not treat them according to their past actions. They were willing to never again engage in wickedness and to act according to Jehovah God's instructions, if only it were possible to never again infuriate Jehovah God. Their repentance was sincere and thorough. It came from deep within their hearts and was unfeigned and intransient.
Once all of the people of Nineveh, from the king to the commoners, learned that Jehovah God was angry with them, God could clearly and plainly see every single one of their subsequent actions and their conduct in its entirety, as well as every one of the decisions and choices that they made. God's heart changed according to their behavior. What was God's frame of mind at that very moment? The Bible can answer that question for you. The following words were recorded in the scriptures: "And God saw their works, that they turned from their evil way; and God repented of the evil, that He had said that He would do to them; and He did it not." Although God changed His mind, there was nothing complicated about His frame of mind. He simply went from expressing His anger to calming His anger, and then decided not to bring catastrophe upon the city of Nineveh. The reason why God's decision—to spare the Ninevites from catastrophe—was so swift is that God observed the heart of every person of Nineveh. He saw what they held deep within their hearts: their sincere repentance and confession for their sins, their sincere belief in Him, their deep sense of how their wicked acts had enraged His disposition, and the resulting fear of Jehovah God's impending punishment. At the same time, Jehovah God also heard their prayers, which came from deep within their hearts, entreating Him to no longer be angry at them, so that they might avoid this catastrophe. When God observed all these facts, little by little His anger faded away. Regardless of how great His anger had previously been, His heart was touched when He saw the sincere repentance deep within these people's hearts, and so He could not bear to bring catastrophe upon them, and He ceased to be angry at them. Instead, He continued to extend His mercy and tolerance toward them and continued to guide and provide for them.
Excerpted from "God Himself, the Unique II" in The Word Appears in the Flesh