Does Forgiving Sins Mean That We Can Enter the Kingdom of Heaven?
Question: People are sinful, but the sin offering of the Lord Jesus is forever effective. As long as we confess our sins to the Lord, He will forgive us. We are sinless in the Lord's eyes, so we can enter the kingdom of heaven!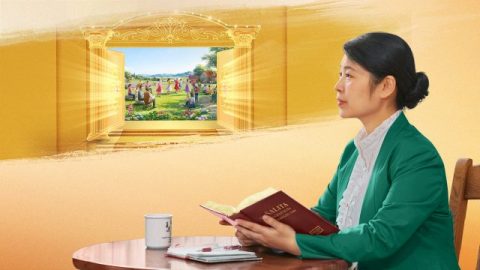 Answer: The Lord Jesus has forgiven mankind's sins, but that doesn't mean man doesn't have sin. That doesn't mean man has been freed from the control of their sins or have attained sanctity. The Lord Jesus forgives man's sins. What does "sin" really refer to in this context? It refers to adultery, theft, etc., anything that violates laws, commandments or God's words is sin. Any action that resists, condemns or judges God is also sin. Any blasphemy against God is sin, sin that cannot be forgiven! In the Age of Grace, the Lord Jesus served as a sin offering for humanity. Only those that prayed to the Lord and repented would not be condemned or put to death. That is to say, God would no longer see them as sinners. Man who was forgiven of their sins could pray directly to the Lord and share in His grace. That is the true meaning of "Sins are forgiven." Although man's sins have been forgiven because of the sin offering of the Lord Jesus, that doesn't mean they have stopped sinning and resisting God. Man's sinful nature still remains, so they are still able to resist and betray God and take Him as their enemy. How can people like that be qualified to enter the kingdom of heaven? It's just as Almighty God says, "A sinner such as you, who has just been redeemed, and has not been changed, or been perfected by God, can you be after God's heart? For you, you who are still of your old self, it is true that you were saved by Jesus, and that you are not counted as a sinner because of the salvation of God, but this does not prove that you are not sinful, and are not impure. How can you be saintly if you have not been changed? Within, you are beset by impurity, selfish and mean, yet you still wish to descend with Jesus—you should be so lucky! You have missed a step in your belief in God: You have merely been redeemed, but you have not been changed. For you to be after God's heart, God must personally do the work of changing and cleansing you; if you are only redeemed, you will be incapable of attaining sanctity. In this way you will be unqualified to share in the good blessings of God, for you have missed out a step in God's work of managing man, which is the key step of changing and perfecting. You, a sinner who has just been redeemed, are therefore incapable of directly inheriting God's inheritance" ("Concerning Appellations and Identity" in The Word Appears in the Flesh). The Lord Jesus' work of redemption only forgave man's sins; it didn't resolve their corrupt disposition. Man's inner arrogance, selfishness, greed, deceitfulness and other aspects of their satanic disposition still remain. This corrupt disposition is deeper than sin; it is much more tenacious than sin. It is the source of our sinning and resistance of God. If these corrupt satanic dispositions are not resolved, man will continue to sin, resist God, and judge and condemn Him according to their own imaginations and conceptions. When they suffer and are persecuted, they can deny God and even betray Him as Judas did. When they hold positions of power, they can establish independent kingdoms in resistance to God. Some people even steal God's offerings and offend His disposition; they will be condemned and extinguished by God. Now most pastors and leaders in the religious community do not abide by the words of the Lord Jesus. They interpret the Bible based on their own conceptions. They treat the words of men in the Bible as the words of God. They exalt men's words instead of testifying about the Lord Jesus' words. This makes the faithful worship men and follow men, and have no place in their hearts for the Lord Jesus. These believers become trapped and controlled under the religious leaders' domain. This is especially true when the Lord Jesus returns to do His work of judgment. Those pastors and leaders do not pursue or study God's work. Instead, they condemn His work, judge Him, and blaspheme against Him. They make up lies to deceive the believers and seal off the church. They publicly take God as their enemy and offend God's disposition. This is the most serious resistance of God that there is. This is a sin that cannot be forgiven! Their evil behavior is even more egregious than that of the Pharisees in resistance to the Lord Jesus! Therefore, if people's nature that resists God is not resolved, if their satanic corrupt disposition is not cleansed, they'll be capable of any evil behavior in resistance of God. How can these kinds of people enter God's kingdom? Therefore, according to His management plan to save mankind and the actual requirements of corrupt humanity, God expresses many different aspects of the truth in the last days, and carries out His work which fulfills the prophecy in the Bible, "Judgment must begin at the house of God," and is to resolve the key problem that corrupt mankind is controlled by their satanic nature. That is the way that man will gradually free themselves from their corrupt satanic disposition, stop rebelling against and resisting God, become able to truly obey and revere God. Only then will they be cleansed and enter the kingdom of heaven.
Excerpted from the movie script of Stinging Memories
Further reading on Sermons on Sin page, or in the recommended articles below:
• Does Forgiveness of Sins Mean Being Purified: How Can We Escape Sin?
• Does Having Our Sins Forgiven Mean We Can Be Raised Up Into the Heavenly Kingdom?