Bible Verses About Baptism to Help You Know the Meaning of Baptism
Baptism is a form of ceremony to show that we return to the Lord. Many believers in the Lord were baptized, so do you want to know the true meaning of baptism? Please read the following Bible verses about baptism and related articles to get a different answer.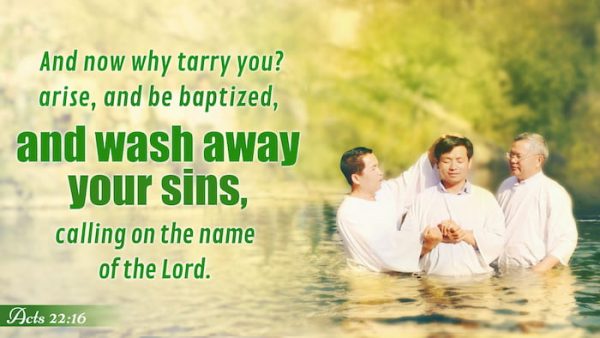 Acts 1:5
For John truly baptized with water; but you shall be baptized with the Holy Ghost not many days hence.
Mark 16:16
He that believes and is baptized shall be saved; but he that believes not shall be damned.
Acts 22:16
And now why tarry you? arise, and be baptized, and wash away your sins, calling on the name of the Lord.
Mark 1:7–8
And preached, saying, There comes one mightier than I after me, the lace of whose shoes I am not worthy to stoop down and unloose. I indeed have baptized you with water: but he shall baptize you with the Holy Ghost.
Acts 19:4–5
Then said Paul, John truly baptized with the baptism of repentance, saying to the people, that they should believe on him which should come after him, that is, on Christ Jesus. When they heard this, they were baptized in the name of the Lord Jesus.
Colossians 2:12
Buried with him in baptism, wherein also you are risen with him through the faith of the operation of God, who has raised him from the dead.
Acts 2:38
Then Peter said to them, Repent, and be baptized every one of you in the name of Jesus Christ for the remission of sins, and you shall receive the gift of the Holy Ghost.
1 Corinthians 12:13
For by one Spirit are we all baptized into one body, whether we be Jews or Gentiles, whether we be bond or free; and have been all made to drink into one Spirit.
1 Peter 3:21
The like figure whereunto even baptism does also now save us (not the putting away of the filth of the flesh, but the answer of a good conscience toward God,) by the resurrection of Jesus Christ.
Romans 6:3–4
Know you not, that so many of us as were baptized into Jesus Christ were baptized into his death? Therefore we are buried with him by baptism into death: that like as Christ was raised up from the dead by the glory of the Father, even so we also should walk in newness of life.