God Bestows Joy and Peace Upon Us – Reflection on John 14:27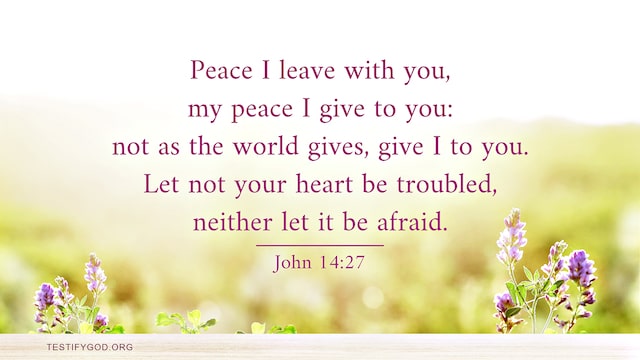 Today's Gospel
Peace I leave with you, my peace I give to you: not as the world gives, give I to you. Let not your heart be troubled, neither let it be afraid. - John 14:27
Reflection
In the last supper, Jesus exhorted His disciples: He won't abandon them and the Holy Spirit will be with them. With Jesus' presence, they don't need to be troubled or afraid.
Jesus' words matter to us Christians nowadays. Maybe your family is not wealthy; maybe you don't have the power; or maybe you are a labor in a small fast food restaurant … However, when we have a heart of fearing God and live in front of Him, He will be with us. Even though we are not wealthy, God bestows His peace upon us that makes us live in joy. Just as God's words say, "No matter what issues we encounter, we're not afraid; we have something to lean on and we have motivation. We're not like non-believers—they are helpless, they're constantly running around, and they're constantly afraid of what might happen. They don't want to get into a car accident, they don't want to provoke a lawsuit or a quarrel, they don't want to offend their boss, colleagues, relatives, or people who are useful to them, they don't want to run into any disasters…. They are wound up tightly in their hearts every day, fearing that these things might happen. They don't have God in their hearts, so they seem pathetic, helpless, and with nothing to lean on. We're different. We don't need to fear those things; God is supreme, He is our Lord, we can lean on Him, He is our Rock. God has already told us the principles of what we should practice when we encounter an issue. We live our lives in the light, in peace." We often pursue rich material and the enjoyments of the flesh, but these are not what God bestows upon us. After reading this passage of God's words, we understand that what God bestows on us are not about the material needs, but more about sureness and peace. Maybe we have taken daily life for granted, and don't regard the peace we have owned as God's protection, but God still silently does everything for us. "Peace I leave with you, my peace I give to you," God's promise to us will never be unfulfilled.
Let's offer a prayer of praise to God for His bestowing peace and joy upon us, so that we can keep away from worries and fear. Amen!
» You may be interested in reading more on our Testimonies page about God's Protection, or in the articles below: