God's Requirements for Us – Gospel Reflection on Matthew 6:1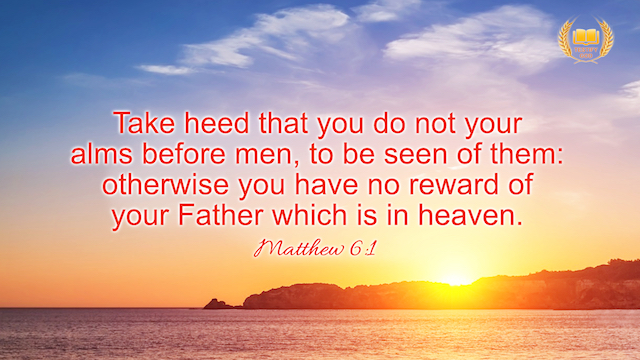 Matthew 6:1
"Take heed that you do not your alms before men, to be seen of them: otherwise you have no reward of your Father which is in heaven."
Reflection
This is the Lord Jesus' demands on us. No matter what we do, regardless of whether it is a big thing or a small thing, God hopes that we should do it before God not before man, in order to obey God and satisfy God's requirements, not to obtain honor of others. But a lot of time, we do things to make our brothers and sisters think highly of us, as well as to win the praise of pastors and elders, just as God says: "Everything he did was actually human goodness and he did not at all seek the truth, and everything he has done was in vain because it was all done in front of people and not before God, and moreover was not practiced in accordance with God's requirements and in accordance with the truth. Everything he did was not practicing the truth or God's word, and moreover was not carrying out God's will. Rather, he was using man's kind-heartedness and good behavior to help people. In summation, he did not seek God's intentions in anything he did, nor did he do it in accordance with God's requirements. Therefore, in God's eyes, people's good behavior is condemned and not commemorated" ("Knowing Yourself Requires Knowing Your Deep-rooted Thoughts and Views"). God's words make me think of hypocritical Pharisees. When they donated, they deliberately let others see. When they prayed, they stood at crossroads on purpose. They pretended godly before men. On the contrary, they didn't obey the commandments and demands of God. All that they have done is to establish themselves and bring man before them, so they were not commemorated by God, but condemned by God. Today, if we see brothers and sisters in a passive state, we'll provide and support them. If we see someone in trouble, we will help them. But if what we do is just to let others praise us, and have our place in their hearts, not to care about and carry out God's will, in the same way, such ""good deeds"" as we do are in vain, and we shall not receive God's praise.
» You may be interested in reading more:
• Can People Really Enter the Heavenly Kingdom By Having Good Behaviors?
• Can We Achieve Salvation If We Don't Believe In God, But Do Good Works?
» Most people also watch Christian Movie : "I Am a Good Person!" - What Is a Truly Good Person?