Gospel for Today – Reflection on Matthew 13:20–21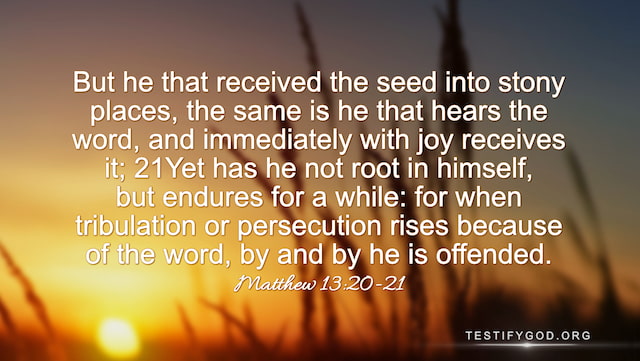 Today's Gospel
But he that received the seed into stony places, the same is he that hears the word, and immediately with joy receives it; Yet has he not root in himself, but endures for a while: for when tribulation or persecution rises because of the word, by and by he is offended.  –Matthew 13:20-21
Reflection
If we don't have a foundation in our belief in God, we will achieve nothing like a seed lands on a rock and doesn't grow roots and sprouts. For the one who believes in God but does not take root in his hearts, he will abandon his belief because of the families' obstruction, betray God under the worldly temptations, and even more he will stray from God on account of Satan's rumors and fallacies.… It proves that it is crucially important for us believers to lay the foundation. Then how should we have a foundation on the path of believing in God? God's word says, "All men use the word of God as a foundation and their reality and have hearts of reverence for God; and that, through the practice of the word of God, man can then rule together with God. It is this work that God will achieve." From these words we can see that we must read God's word in our belief in God, because God's word is the truth, and can show us the path of practice and bring life to us. Through pondering over God's word and putting it into practice, we will strengthen our faith in God and have a foundation in our belief.
» You may be interested in reading more:
• As Christians, How Can We Face Trials From God Audaciously and Calmly?
• What to Do When You Lose Faith in God in Setbacks
• What Should We Do When We Face Trials?
» Most people also watch: Christian Movie "Baptism by Fire" – The True Story of a Christian