Gospel for Today – Reflection on Matthew 13:49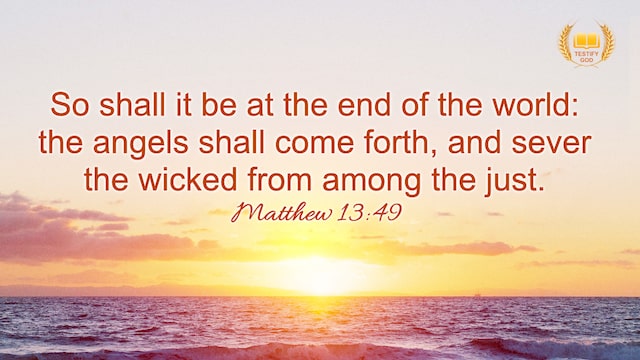 Today's Gospel
So shall it be at the end of the world: the angels shall come forth, and sever the wicked from among the just. –Matthew 13:49
Reflection
We understand from this verse that God will sever the wicked from among the just in the last days. The Bible says, "And, behold, I come quickly; and my reward is with me, to give every man according as his work shall be" (Rev 22:12). We can't help but ask: How will the Lord do such work when He comes again? It is recorded in the Bible, "And I will come near to you to judgment; …, said the LORD of hosts" (Mal 3:5). "For the time is come that judgment must begin at the house of God" (1Pe 4:17). "Fear God, and give glory to him; for the hour of his judgment is come" (Rev 14:7). "For he comes, for he comes to judge the earth: he shall judge the world with righteousness, and the people with his truth" (Psm 96:13). From these scriptures, we can see that God will do the work of judgment starting from the house of God. Through judgment, God wants to reveal those true believers in God and those evil servants in the church. Evil shall return to evil, good shall return to good. God says, "His final work of concluding the age, God's disposition is one of chastisement and judgment, in which He reveals all that is unrighteous, in order to publicly judge all peoples, and to perfect those who love Him with a sincere heart. Only a disposition such as this can bring the age to an end. … During the last days, only righteous judgment can classify man according to their kind and bring man into a new realm. In this way, the entire age is brought to an end through God's righteous disposition of judgment and chastisement." God's work is wonderful and hard to fathom, and full of wisdom and almightiness. Let's pray: "Your kingdom come, Your will be done in earth, as it is in heaven" (Mat 6:10).
» You may be interested in reading more:
• A New Understanding of "God Wants All Men to Be Saved"
• Knowing Meaning of God's Work in His Incarnation From Parables
Join our Bible study group!
Are you willing to take 10 minutes to pray to God and read His words? Join our group now!