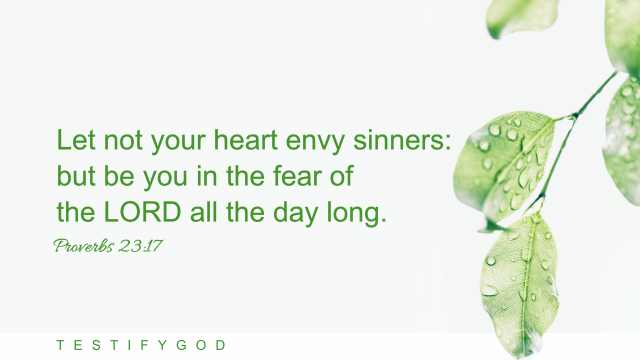 Today's Gospel
Let not your heart envy sinners: but be you in the fear of the LORD all the day long. – Proverbs 23:17
Reflection
We often envy someone who has ability and caliber. Why do we envy such a person? Because he is better than us, He possesses what we lack. We are not as good as him so we envy him. In fact, no matter what gifts and merits people have, we should not envy them but only look up to God. For people's gifts and merits are bestowed by God, people have nothing praiseworthy. So we should worship God, only God deserves our worship forever.
» You may be interested in reading more:
• Bible Verses About Envy: Shake Off the Shackles of Envy
• A Christian's Testimony: How to Mend a Friendship Broken by Interests
• Three Principles for Serving God Harmoniously
» Recommended: "The Heart's Deliverance"- Do You Know the Secret to Getting Rid of Jealousy?
Chat With Us!
Do you want to welcome the Lord and be raptured into the heavenly kingdom? Are you confused by the problems in your belief? You are welcome to contact us in the following ways.