To Whoever Has More Will Be Given – Reflection on Matthew 13:12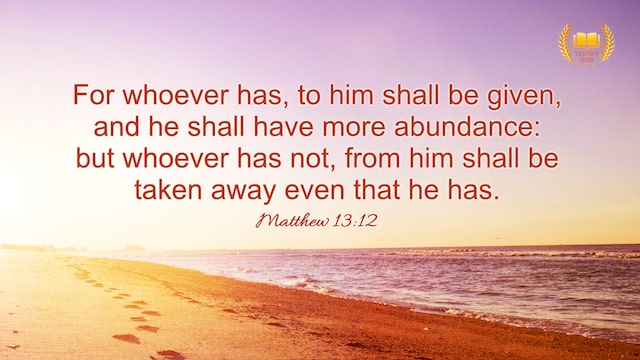 Today's Gospel
For whoever has, to him shall be given, and he shall have more abundance: but whoever has not, from him shall be taken away even that he has.  - Matthew 13:12
Reflection
God's attitude toward man depends on man's attitude toward God. If you put more efforts into the truth, God will give you more so that you can gain more; if you don't pursue the truth, then God won't work within you, gradually, you won't even understand the truth you knew before. Just as God's word says: "The Holy Spirit works by this principle: Through people's cooperation, through them actively praying, searching and coming closer to God, results can be achieved and they can be enlightened and illuminated by the Holy Spirit. It is not the case that the Holy Spirit acts unilaterally, or that man acts unilaterally. Both are indispensable, and the more that people cooperate, and the more they pursue the attainment of the standards of God's requirements, the greater the work of the Holy Spirit." God is a practical God, and the effects of the Holy Spirit's work come from man's cooperation. The more you pray to God, the more God will guide and enlighten you; the closer you come to God, the more God will move you; the more you seek to understand God's will, the more grace God will bestow you to allow you to grasp God's will.
» You may be interested in reading more:
• 4 Keys to Help Our Prayers Be Accepted by God
Join our Bible study group!
Are you willing to take 10 minutes to pray to God and read His words? Join our group now!