The Beam in Your Own Eye—Reflection on Matthew 7:3-5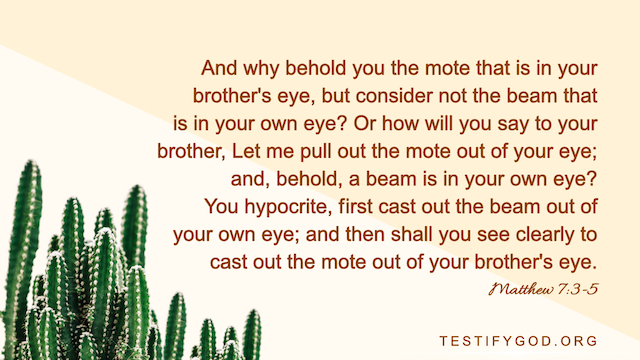 Today's Gospel
And why behold you the mote that is in your brother's eye, but consider not the beam that is in your own eye? Or how will you say to your brother, Let me pull out the mote out of your eye; and, behold, a beam is in your own eye? You hypocrite, first cast out the beam out of your own eye; and then shall you see clearly to cast out the mote out of your brother's eye. - Matthew 7:3–5
Reflection
When encountering something in our daily lives, we incline to grumble to others, instead of knowing ourselves. Even if among one family, we are still full of blame and complaints, unable to get on well with each other. For example: A husband is always grumbling that his wife shows little empathy and consideration for him, while his wife often blames him for he doesn't give enough kindness, consideration, and care to her; a mother-in-law is always railing against her daughter-in-law about her unthrifty housekeeping and lacking in filial duty, while the daughter-in-law constantly complains, saying that her mother-in-law is too captious, not regarding her as a member of the family; parents continually reproach their children for being so disobedient that they are worried sick about them, while children are always grumbling at their parents about controlling everything of them and depriving of their freedoms; friends, fellows, and brothers and sisters also always blame and grumble to each other for giving too much while gaining too little…. When there are some conflicts in our contact with others, we merely blindly blame others. Each of us sees ourselves as an innocent victim and has sufficient reasons to blame and complain to others. Because of such complaints, our interpersonal tension is growing. There is no longer any understanding and tolerance between people, and human relations have become full of hostility and enmity. We are also eager to live in amity with the relatives and friends around us and to love each other. However, without exception, we are all hurting one another. Facing these problems, what should we do to save the day?
God says, "Everyone has minor faults and shortcomings, as well as certain idiosyncrasies; people all possess self-righteousness, weakness, and areas in which they are lacking. You should help them with a loving heart, be tolerant and forbearing, and not be too harsh or make a fuss over every tiny detail. With people who are young or have not believed in God for very long, or have only recently started to perform their duties or have certain special requests, if you just grab them by the pigtails and refuse to let go, then this is what is known as being harsh. You ignore the evil done by those false leaders and antichrists, and yet upon spotting minor shortcomings and faults in your brothers and sisters, you refuse to help them, instead choosing to make a fuss over those things and judge them behind their backs, thereby causing even more people to oppose, exclude, and ostracize them. What sort of behavior is this? This is just doing things based on your personal preferences, and not being able to treat people fairly; this shows a corrupt satanic disposition! This is a transgression! When people do things, God is watching; whatever you do and however you think, He sees! If you wish to grasp the principles, then you must first understand the truth. Once you understand the truth, you can comprehend the will of God; if you do not understand the truth, you certainly will not understand God's will. The truth tells you how to treat people, and once you have understood this, you will know how to treat people in line with God's will. How you are to treat others is clearly shown and pointed out in God's words; the attitude with which God treats humanity is the attitude people should adopt in their treatment of one another. How does God treat each and every person? Some people are of immature stature, or are young, or have believed in God for only a short time. Some people's nature and essence are not bad or malicious; it is simply that they are somewhat ignorant or lacking in caliber, or that they have been polluted too much by society. They have not entered into the reality of the truth, so it is difficult for them to keep from doing some foolish things or committing some acts of ignorance. However, from God's perspective, such matters are not important; He looks at only people's hearts. If they are resolved to enter into the reality of the truth, they are headed in the right direction, and this is their objective, then God is watching them, waiting for them, and giving them time and opportunities that allow them to enter. It is not that God knocks them down with one blow or beats them the moment they stick their heads out; God has never treated people like this. That being said, if people treat each other in such a manner, then does this not show their corrupt disposition? This is precisely their corrupt disposition. You have to look at how God treats ignorant and foolish people, how He treats those with immature stature, how He treats the normal manifestations of humanity's corrupt disposition, and how He treats those who are malicious. God has various ways of treating different people, and He also has various ways of managing different people's myriad conditions. You must understand the truth of these things. Once you have understood these truths, you can then know how to experience them."
These words show us the path of practice. If we want to get on well with others, we should view others' shortcomings correctly and learn to tolerate and forbear with others. Especially when we have disagreements with others, we should first reflect on ourselves and solve our own problems, and should not fixate our eyes on others. When we practice in this way, we will gradually discover we are not better than others and that the problems are more serious in us than in others. Thus we will naturally understand and forbear with others. Then we will be freed from complaints, and our relationship with the people around us will become more and more proper.
God also says, "The truth is related to the life of normal humanity. It can correct all kinds of your bad tendencies and habits, bad and negative thoughts. It can change your satanic disposition and all sorts of things in you that belong to Satan, become your life, and allow you to become proper and have humanity. It will change you so that your thinking and your heart are proper, you possess reason, and you are proper in every aspect." We have been deeply corrupted by Satan. If we want to get along well with others and live out the likeness of a normal man, the most important thing is to allow the truth to be our life and use the truth to correct our thinking and point of view, so that our arrogant and conceited corrupt disposition can be taken away. Only in this way can our conscience and reason gradually return to normal, and can we learn to forgive, forbear, and understand others. At that time, we will become more and more harmonious in the dealings with others, thus we will get rid of the complaints.