Be Wise and Prudent – Reflection on Proverbs 14:8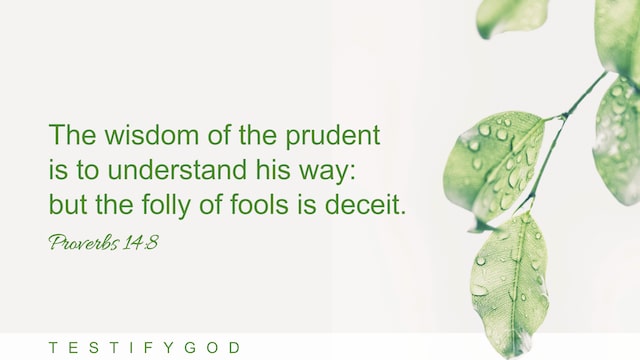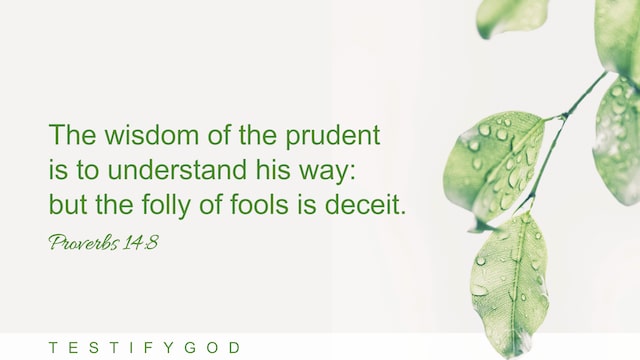 Today's Gospel
The wisdom of the prudent is to understand his way: but the folly of fools is deceit. - Proverbs 14:8
Reflection
This verse tells us that those who are wise and intelligent clearly know their way. They set direction and goal ahead rather than move on blindly. Therefore, they clearly know what they want, and their choices on life path are wiser than others. They are not subject to the impact of any people, events, or things. Take Peter as an example. He was agile of wit, endowed with native intelligence, and should have become somebody after growing up. However, he was determined to believe in and follow God, and sought to know God and love God while following Him, and ultimately achieved the supreme love of God and was perfected by God. Those who are foolish are different. They are suspicious of and guard against God at every turn. No matter what they do, they rely on their imaginations and sight. They don't believe anything that is invisible to man. When they believe in God, they hold something back for themselves. They have doubts about God's words, God's promise, and are even ambiguous about His existence. The path they walk is that they pursue money, fame, and fortune while believing in God. Only when God appears publicly or the great disaster comes one day will they wholeheartedly seek the truth. This is the path the fools have chosen. Just like Thomas. Although he followed the Lord, he did not believe in the Lord' words, nor did he believe that the Lord would be resurrected after three days. Thomas didn't believe until he saw the scars from the nails on Jesus' hands and touched His rib. Such kind of man is foolish and cunning. So the Lord Jesus said to him, "Thomas, because you have seen me, you have believed: blessed are they that have not seen, and yet have believed" (John 20:29). It can be seen that it's very important to take the right path in our belief in God. Most importantly, we should have a proper pursuit as we walk our road ahead. If we can, like Peter, wholeheartedly love God without deals and demands, or speculation and doubts, and all of our actions are for loving and satisfying God, then we will be people who are prudent and wise, and approved by God.
» Most people also watch Christian Movie: "Deadly Ignorance": Who Should We Listen to in Welcoming the Lord's Return 
Join our Bible study group!
Are you willing to take 10 minutes to pray to God and read His words? Join our group now!