Reflection on Proverbs 15:29 – Gospel for Today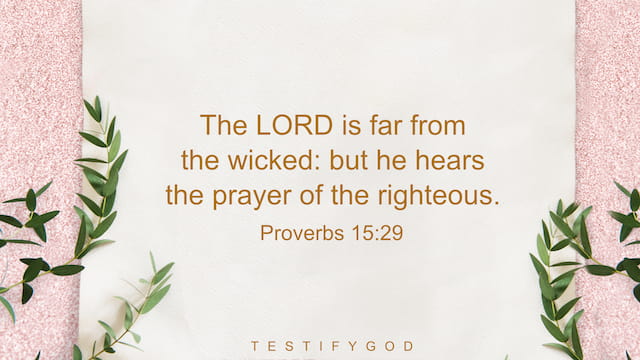 Today's Gospel
The LORD is far from the wicked: but he hears the prayer of the righteous. - Proverbs 15:29
Reflection:
God's substance is holy. He loathes those that do evil, and likes those that do justice. So He hears the prayer of the righteous. It is recorded in the Bible that Job prayed for his three friends, which had shown God's will. "And it was so, that after the LORD had spoken these words to Job, the LORD said to Eliphaz the Temanite, My wrath is kindled against you, and against your two friends: for you have not spoken of me the thing that is right, as my servant Job has. Therefore take to you now seven bullocks and seven rams, and go to my servant Job, and offer up for yourselves a burnt offering; and my servant Job shall pray for you: for him will I accept: lest I deal with you after your folly, in that you have not spoken of me the thing which is right, like my servant Job. So Eliphaz the Temanite and Bildad the Shuhite and Zophar the Naamathite went, and did according as the LORD commanded them: the LORD also accepted Job" (Job 42:7-9). Because Job stood witness for God in trials, God loved him and listened to his prayer, and promised him according to what he asked for.
God says, "Even though God called Job His servant, in God's eyes this servant was beloved, and was bestowed with the authority to pray for others and forgive them their mistakes. This servant was able to talk directly to God and come directly before God, his status was higher and more honorable than those of others." God's words make us clearly understand that His attitude toward those who are loved by Him. If one can obey God's way, fear God and shun evil, he will be cherished by God. If one does evil things and resists God without repentance, God not only will hate him, but will punish him. This is God's attitude toward different people.
» Further reading about Sermons on Prayer:
Join our Bible study group!
Are you willing to take 10 minutes to pray to God and read His words? Join our group now!