Bible Verses About Sin to Help You Find the Way to Get Rid of Sin
Since we believed in the Lord, our sins have been forgiven, but why do we still often sin? What are the consequences of committing sins? And how can we free ourselves from sin? Please read these Bible verses about sin and find the way to get rid of sin from them.
Quick Navigation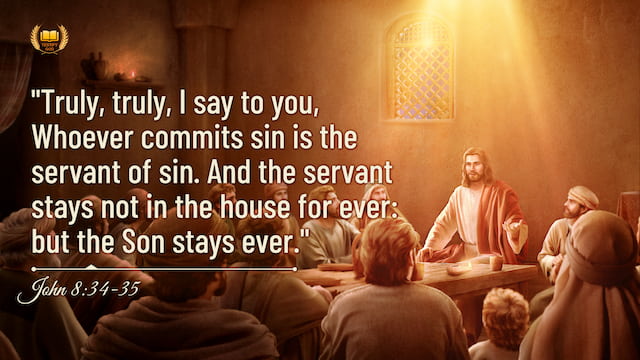 The Reason Why We Still Sin After Our Sins Are Forgiven Through Faith in the Lord
Romans 7:23
But I see another law in my members, warring against the law of my mind, and bringing me into captivity to the law of sin which is in my members.
James 1:15
Then when lust has conceived, it brings forth sin: and sin, when it is finished, brings forth death.
Romans 5:12
Why, as by one man sin entered into the world, and death by sin; and so death passed on all men, for that all have sinned.
Relevant Words of God:
For all that man may have been redeemed and forgiven of his sins, it can only be considered as God not remembering the transgressions of man and not treating man in accordance with his transgressions. However, when man, who lives in a body of flesh, has not been set free from sin, he can only continue to sin, endlessly revealing his corrupt satanic disposition. This is the life that man leads, an endless cycle of sinning and being forgiven. The majority of men sin in the day only to confess in the evening. This way, even if the sin offering is forever effective for man, it will not be able to save man from sin. Only half the work of salvation has been completed, for man still has a corrupt disposition. … This is the corruption of man; running deeper than sin, it is something planted by Satan and deeply rooted within man" ("The Mystery of the Incarnation (4)").
The Bible says, "For the wages of sin is death." We are forgiven of our sins for believing in the Lord, but we still often betray the Lord's teachings, and give in to our fleshly desires to lie, cheat, lose our tempers, become lustful, and more. How can we get rid of repeated sin and be purified and enter the heavenly kingdom? If you want to find the way to escape sin, you may contact us online.
The Consequences of Committing Sins
Romans 6:23
For the wages of sin is death.
Isaiah 1:28
And the destruction of the transgressors and of the sinners shall be together, and they that forsake Jehovah shall be consumed.
Revelation 21:8
But the fearful, and unbelieving, and the abominable, and murderers, and fornicators, and sorcerers, and idolaters, and all liars, shall have their part in the lake which burns with fire and brimstone: which is the second death.
Ezekiel 18:20
The soul that sins, it shall die. The son shall not bear the iniquity of the father, neither shall the father bear the iniquity of the son: the righteousness of the righteous shall be on him, and the wickedness of the wicked shall be on him.
Matthew 7:21–23
Not every one that said to me, Lord, Lord, shall enter into the kingdom of heaven; but he that does the will of my Father which is in heaven. Many will say to me in that day, Lord, Lord, have we not prophesied in your name? and in your name have cast out devils? and in your name done many wonderful works?And then will I profess to them, I never knew you: depart from me, you that work iniquity.
Hebrews 10:26–27
For if we sin willfully after that we have received the knowledge of the truth, there remains no more sacrifice for sins, But a certain fearful looking for of judgment and fiery indignation, which shall devour the adversaries.
2 Peter 2:14
Having eyes full of adultery, and that cannot cease from sin; beguiling unstable souls: an heart they have exercised with covetous practices; cursed children.
Revelation 21:27
And the twelve gates were twelve pearls: every several gate was of one pearl: and the street of the city was pure gold, as it were transparent glass.
Relevant Words of God:
"You must know what kind of people I desire; those who are impure are not permitted to enter into the kingdom, those who are impure are not permitted to besmirch the holy ground. Though you may have done much work, and have worked for many years, in the end if you are still deplorably filthy—it is intolerable to the law of Heaven that you wish to enter My kingdom! From the foundation of the world until today, never have I offered easy access to My kingdom to those who curry favor with Me. This is a heavenly rule, and no one can break it! You must seek life. Today, those who will be made perfect are the same kind as Peter: They are those who seek changes in their own disposition, and are willing to bear testimony to God and perform their duty as a creature of God. Only people such as this will be made perfect. If you only look to rewards, and do not seek to change your own life disposition, then all your efforts will be in vain—and this is an unalterable truth!" ("Success or Failure Depends on the Path That Man Walk").
How to Get Rid of Sin
Hebrews 12:14
Follow peace with all men, and holiness, without which no man shall see the Lord.
John 16:12–13
I have yet many things to say to you, but you cannot bear them now. However, when he, the Spirit of truth, is come, he will guide you into all truth: for he shall not speak of himself; but whatever he shall hear, that shall he speak: and he will show you things to come.
Revelation 3:22
He that has an ear, let him hear what the Spirit said to the churches.
John 12:47–48
And if any man hear my words, and believe not, I judge him not: for I came not to judge the world, but to save the world. He that rejects me, and receives not my words, has one that judges him: the word that I have spoken, the same shall judge him in the last day.
1 Peter 4:17
For the time is come that judgment must begin at the house of God.
Zechariah 13:8–9
And it shall come to pass, that in all the land, said Jehovah, two parts therein shall be cut off and die; but the third shall be left therein.And I will bring the third part through the fire, and will refine them as silver is refined, and will try them as gold is tried: they shall call on my name, and I will hear them: I will say, It is my people: and they shall say, Jehovah is my God.
Daniel 12:9-10
And he said, Go your way, Daniel: for the words are closed up and sealed till the time of the end. Many shall be purified, and made white, and tried; but the wicked shall do wickedly: and none of the wicked shall understand; but the wise shall understand.
John 17:17
Sanctify them through your truth: your word is truth.
Relevant Words of God:
"In the last days, Christ uses a variety of truths to teach man, to expose the essence of man, and to dissect the words and deeds of man. These words comprise various truths, such as man's duty, how man should obey God, how man should be loyal to God, how man ought to live out normal humanity, as well as the wisdom and the disposition of God, and so on. These words are all directed at the essence of man and his corrupt disposition. In particular, the words that expose how man spurns God are spoken in regard to how man is an embodiment of Satan, and an enemy force against God. In undertaking His work of judgment, God does not simply make clear the nature of man with a few words; He exposes, deals with, and prunes over the long term. These methods of exposure, dealing, and pruning cannot be substituted with ordinary words, but with the truth of which man is utterly bereft. Only methods such as these can be called judgment; only through judgment of this kind can man be subdued and thoroughly convinced into submission to God, and moreover gain true knowledge of God. What the work of judgment brings about is man's understanding of the true face of God and the truth about his own rebelliousness. The work of judgment allows man to gain much understanding of the will of God, of the purpose of God's work, and of the mysteries that are incomprehensible to him. It also allows man to recognize and know his corrupt substance and the roots of his corruption, as well as to discover the ugliness of man. These effects are all brought about by the work of judgment, for the substance of this work is actually the work of opening up the truth, the way, and the life of God to all those who have faith in Him. This work is the work of judgment done by God" ("Christ Does the Work of Judgment With the Truth").
"By means of this work of judgment and chastisement, man will fully come to know the filthy and corrupt substance within his own self, and he will be able to change completely and become clean. Only in this way can man become worthy to return before the throne of God. All the work done this day is so that man can be made clean and be changed; through judgment and chastisement by the word, as well as through refinement, man can purge away his corruption and be made pure. Rather than deeming this stage of work to be that of salvation, it would be more apt to say it is the work of purification" ("The Mystery of the Incarnation (4)").
"Through what is God's perfection of man accomplished? Through His righteous disposition. God's disposition primarily consists of righteousness, wrath, majesty, judgment, and curse, and His perfection of man is primarily through judgment. Some people don't understand, and ask why it is that God is only able to make man perfect through judgment and curse. They say, "If God were to curse man, wouldn't man die? If God were to judge man, wouldn't man be condemned? Then how can he still be made perfect?" Such are the words of people who do not know the work of God. What God curses is the disobedience of man, and what He judges are the sins of man. Although He speaks harshly, and without the slightest sensitivity, He reveals all that is within man, and through these stern words He reveals that which is essential within man, yet through such judgment, He gives man a profound knowledge of the essence of the flesh, and thus man submits to obedience before God. The flesh of man is of sin, and of Satan, it is disobedient, and the object of God's chastisement—and so, to allow man to know himself, the words of God's judgment must befall him and there must be employed every kind of refinement; only then can God's work be effective" ("Only by Experiencing Painful Trials Can You Know the Loveliness of God").
» Articles on Return to God page will help you find the way to get rid of sin. Read to learn more:
• Putting Her Pride Aside, She Gained …
• Christian Experience at Work: I Never Lose Anything by Being an Honest Person
• How Do Christians Resist Temptation in the Workplace? She Did It This Way
• A Christian's Testimony: I Got the Way to Shake off the Shackles of Money
Join our Bible study group!
Are you willing to take 10 minutes to pray to God and read His words? Join our group now!