God says, "The words I speak are truths directed at all mankind, and are not addressed only to a specific person or type of person. Therefore, you should concentrate on receiving My words from the standpoint of the truth, as well as maintain an attitude of undivided attention and sincerity. Do not ignore a single word or truth that I speak, and do not regard all of My words with disdain. " God's word is a lamp to our feet and a light to our path, and is bread of life for our spiritual growth. So, it is a mandatory lesson for us to read God's word and practice God's word every day. we should accept and obey God's word with a God-fearing heart. Only thus can we gain the enlightenment and guidance of the Holy Spirit and understand God's will. Now, let's quiet our heart before God and read His word below.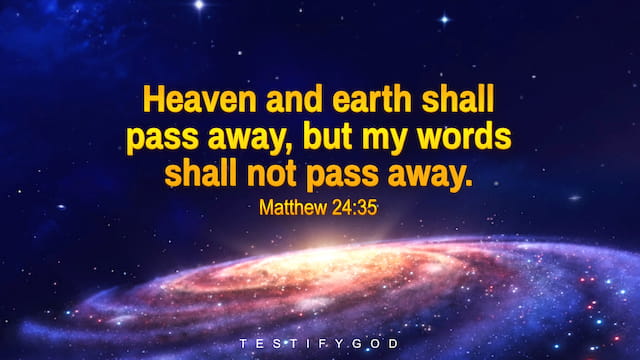 The Word of God
Matthew 24:35
Heaven and earth shall pass away, but my words shall not pass away.
---
John 6:63
It is the spirit that vivifies; the flesh profits nothing: the words that I speak to you, they are spirit, and they are life.
---
John 5:39-40
Search the scriptures; for in them you think you have eternal life: and they are they which testify of me. And you will not come to me, that you might have life.
---
» Related articles:
• Does the Bible Contain the Way of Eternal Life?
• A Mystery Revealed: Not All the Word in the Bible Is God's Word
---
Isaiah 55:8
For my thoughts are not your thoughts, neither are your ways my ways, said the LORD.
---
Isaiah 55:9
For as the heavens are higher than the earth, so are my ways higher than your ways, and my thoughts than your thoughts.
---
Ezekiel 12:28
Therefore say to them, Thus said the Lord GOD; There shall none of my words be prolonged any more, but the word which I have spoken shall be done, said the Lord GOD.
---
Gospel Movie "Yearning": God Reveals the Mystery of Kingdom of Heaven
Matthew 7:24
Therefore whoever hears these sayings of mine, and does them, I will liken him to a wise man, which built his house on a rock.
---
Matthew 13:19-21
When any one hears the word of the kingdom, and understands it not, then comes the wicked one, and catches away that which was sown in his heart. This is he which received seed by the way side. But he that received the seed into stony places, the same is he that hears the word, and immediately with joy receives it; Yet has he not root in himself, but endures for a while: for when tribulation or persecution rises because of the word, by and by he is offended.
---
Matthew 4:4
But he answered and said, It is written, Man shall not live by bread alone, but by every word that proceeds out of the mouth of God.
---
John 8:31
Then said Jesus to those Jews which believed on him, If you continue in my word, then are you my disciples indeed;
---
John 8:32
And you shall know the truth, and the truth shall make you free.
---
John 15:7
If you abide in me, and my words abide in you, you shall ask what you will, and it shall be done to you.
---
» Read more in these articles:
• True Meaning of Man Living by God's Word
• 4 Steps to Magnify the Lord in Your Life – Daily Practice
• The Happy Experience of Putting the Truth Into Practice
---
John 17:17
Sanctify them through your truth: your word is truth.
---
John 7:16
Jesus answered them, and said, My doctrine is not mine, but his that sent me.
---
John 7:38
He that believes on me, as the scripture has said, out of his belly shall flow rivers of living water.
---
Luke 11:28
But he said, Yes rather, blessed are they that hear the word of God, and keep it.
---
Revelation 1:2
Who bore record of the word of God, and of the testimony of Jesus Christ, and of all things that he saw.
---
Revelation 22:19
And if any man shall take away from the words of the book of this prophecy, God shall take away his part out of the book of life, and out of the holy city, and from the things which are written in this book.
---
Seven Words of Jesus on The Cross
The seven words of Jesus on the cross are the last seven expressions of the Lord Jesus when He was crucified to redeem mankind, which contains profound meaning. Let's contemplate and pray-read these Bible verses and feel God's love and salvation for us.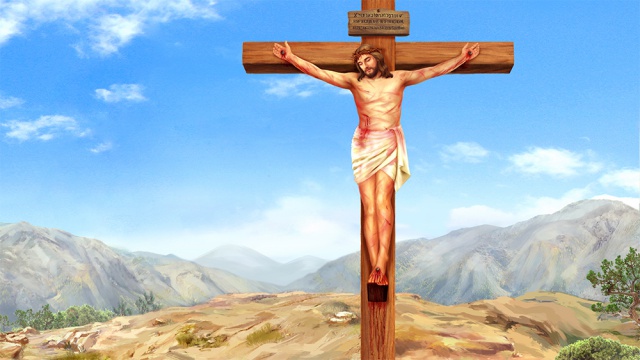 1. "Father, forgive them; for they know not what they do." -Luke 23:34
---
2. "Truly I say to you, To day shall you be with me in paradise." -Luke 23:43
---
3. "Woman, behold your son!" "Behold your mother!" -John 19:26–27
---
4. "My God, my God, why have you forsaken me? " -Matthew 27:46 & Mark 15:34
---
5. "I thirst." -John 19:28
---
6. "It is finished." -John 19:30
---
7. "Father, into your hands I commend my spirit." -Luke 23:46
---
» You might be interested in reading more:
• True Meaning of Jesus Saying "It Is Finished" on the Cross
• Does the Lord Jesus Saying "It Is Finished" Mean That God's Work of Saving Mankind Is Finished
Peace be with you all! Dear brothers and sisters, if you have any understanding or enlightenment from God, you're welcome to share with us.
1. Via the online chat window at the bottom right corner of the screen.
2. Send an email to info@testifygod.org.
We sincerely hope we'll grow spiritually through sharing with each other.