Bible Verses About Loving Your Neighbor as Yourself
Loving your neighbor as yourself is a commandment that the Lord Jesus required us to observe. Which Bible verses are about this aspect? Let's read these 12 Bible verses together and learn how to love others.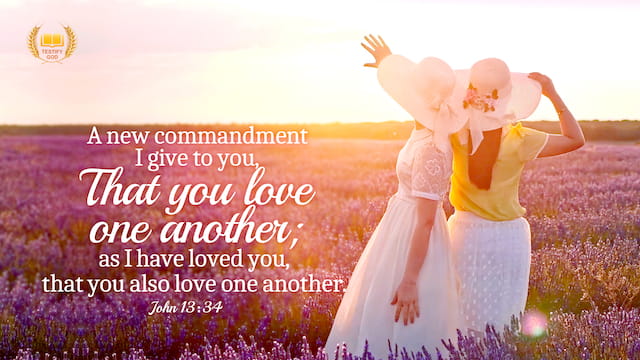 John 13:34-35
A new commandment I give to you, That you love one another; as I have loved you, that you also love one another. By this shall all men know that you are my disciples, if you have love one to another.
Matthew 7:12
Therefore all things whatever you would that men should do to you, do you even so to them: for this is the law and the prophets.
Romans 13:8
Owe no man any thing, but to love one another: for he that loves another has fulfilled the law.
1 Peter 4:8-10
And above all things have fervent charity among yourselves: for charity shall cover the multitude of sins. Use hospitality one to another without grudging. As every man has received the gift, even so minister the same one to another, as good stewards of the manifold grace of God.
Luke 10:27
And he answering said, You shall love the Lord your God with all your heart, and with all your soul, and with all your strength, and with all your mind; and your neighbor as yourself.
Mark 12:29-31
And Jesus answered him, The first of all the commandments is, Hear, O Israel; The Lord our God is one Lord: And you shall love the Lord your God with all your heart, and with all your soul, and with all your mind, and with all your strength: this is the first commandment. And the second is like, namely this, You shall love your neighbor as yourself. There is none other commandment greater than these.
1 John 4:7-8
Beloved, let us love one another: for love is of God; and every one that loves is born of God, and knows God. He that loves not knows not God; for God is love.
Romans 12:4-5
For as we have many members in one body, and all members have not the same office: So we, being many, are one body in Christ, and every one members one of another.
1 Corinthians 13:4-8
Charity suffers long, and is kind; charity envies not; charity braggs not itself, is not puffed up, Does not behave itself unseemly, seeks not her own, is not easily provoked, thinks no evil; Rejoices not in iniquity, but rejoices in the truth; Bears all things, believes all things, hopes all things, endures all things. Charity never fails: but whether there be prophecies, they shall fail; whether there be tongues, they shall cease; whether there be knowledge, it shall vanish away.
» You may be interested in reading more on our Interpersonal Relationships page, or in the articles below: