Bible Verses About Obedience
Obedience is the source of being blessed by God. In the Bible, many passages teach us to obey the authority of Christ, and live out a life that fears and obeys God. Here we've selected 12 Bible verses about obedience to help you learn how to obey God.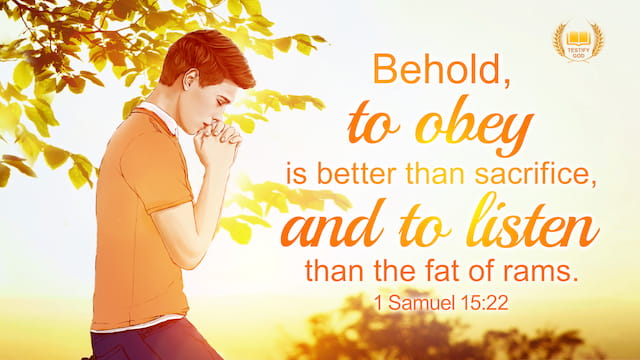 Deuteronomy 28:2
And all these blessings shall come on you, and overtake you, if you shall listen to the voice of the LORD your God.
1 Samuel 15:22
And Samuel said, Has the LORD as great delight in burnt offerings and sacrifices, as in obeying the voice of the LORD? Behold, to obey is better than sacrifice, and to listen than the fat of rams.
Romans 13:5
Why you must needs be subject, not only for wrath, but also for conscience sake.
Ephesians 5:21
Submitting yourselves one to another in the fear of God.
Ephesians 6:5-8
Servants, be obedient to them that are your masters according to the flesh, with fear and trembling, in singleness of your heart, as to Christ; Not with eye-service, as men pleasers; but as the servants of Christ, doing the will of God from the heart; With good will doing service, as to the Lord, and not to men: Knowing that whatever good thing any man does, the same shall he receive of the Lord, whether he be bond or free.
Titus 2:9
Exhort servants to be obedient to their own masters, and to please them well in all things; not answering again.
Hebrews 12:9
Furthermore we have had fathers of our flesh which corrected us, and we gave them reverence: shall we not much rather be in subjection to the Father of spirits, and live?
Hebrews 13:17
Obey them that have the rule over you, and submit yourselves: for they watch for your souls, as they that must give account, that they may do it with joy, and not with grief: for that is unprofitable for you.
James 4:7
Submit yourselves therefore to God. Resist the devil, and he will flee from you.
1 Peter 2:18
Servants, be subject to your masters with all fear; not only to the good and gentle, but also to the fraudulent.
» We'd like to share with you the articles:
1 Peter 5:5
Likewise, you younger, submit yourselves to the elder. Yes, all of you be subject one to another, and be clothed with humility: for God resists the proud, and gives grace to the humble.
Philippians 2:12-18
Why, my beloved, as you have always obeyed, not as in my presence only, but now much more in my absence, work out your own salvation with fear and trembling. For it is God which works in you both to will and to do of his good pleasure. Do all things without murmurings and disputings: That you may be blameless and harmless, the sons of God, without rebuke, in the middle of a crooked and perverse nation, among whom you shine as lights in the world; Holding forth the word of life; that I may rejoice in the day of Christ, that I have not run in vain, neither labored in vain. Yes, and if I be offered on the sacrifice and service of your faith, I joy, and rejoice with you all. For the same cause also do you joy, and rejoice with me.