Bible Verses About Relying on God
Relying on God is man's greatest wisdom. These 16 Bible verses about relying on God help you learn to rely on God in any difficulty and danger and give you faith and strength.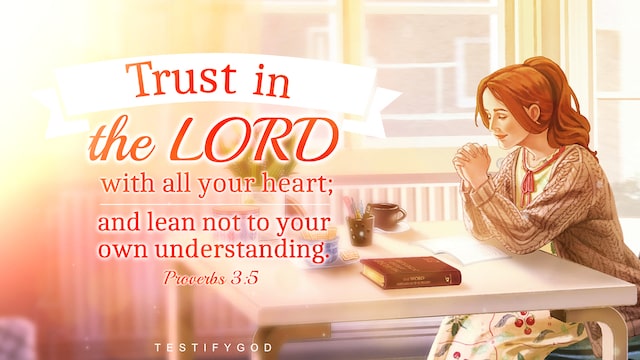 Psalm 28:7
The LORD is my strength and my shield; my heart trusted in him, and I am helped: therefore my heart greatly rejoices; and with my song will I praise him.
Psalm 32:10
Many sorrows shall be to the wicked: but he that trusts in the LORD, mercy shall compass him about.
Psalm 37:3
Trust in the LORD, and do good; so shall you dwell in the land, and truly you shall be fed.
Psalm 37:5
Commit your way to the LORD; trust also in him; and he shall bring it to pass.
Psalm 37:7
Rest in the LORD, and wait patiently for him: fret not yourself because of him who prospers in his way, because of the man who brings wicked devices to pass.
Psalm 52:8
But I am like a green olive tree in the house of God: I trust in the mercy of God for ever and ever.
Psalm 118:8
It is better to trust in the LORD than to put confidence in man.
Job 4:6
Is not this your fear, your confidence, your hope, and the uprightness of your ways?
Job 24:23
Though it be given him to be in safety, where on he rests; yet his eyes are on their ways.
Proverbs 3:5
Trust in the LORD with all your heart; and lean not to your own understanding.
Proverbs 3:26
For the LORD shall be your confidence, and shall keep your foot from being taken.
Proverbs 14:26
In the fear of the LORD is strong confidence: and his children shall have a place of refuge.
Proverbs 16:20
He that handles a matter wisely shall find good: and whoever trusts in the LORD, happy is he.
Proverbs 28:25
He that is of a proud heart stirs up strife: but he that puts his trust in the LORD shall be made fat.
Proverbs 29:25
The fear of man brings a snare: but whoever puts his trust in the LORD shall be safe.
Zechariah 4:6
Then he answered and spoke to me, saying, This is the word of the LORD to Zerubbabel, saying, Not by might, nor by power, but by my spirit, said the LORD of hosts.
» You may be interested in reading more on our  Bible Verses by Topic page, or in the articles below :
• Relying on God, I Got More Than a Job
• How to Overcome Exam Anxiety? Learn to Rely on God
• During a Spiritual Battle, I Relied on God to Overcome My Family's Interference