9 Bible Verses About Peace: Obtain Strength From God
All people seek peace during their lifetime. But who can obtain true peace? We all strive and rush around to gain status and prestige. However, after many of us gain fame and reputation and satisfaction of the flesh through striving for years, we feel empty and pained, without any peace. How exactly can we obtain peace? Read the following Bible verses and you will feel peace and blessings from God.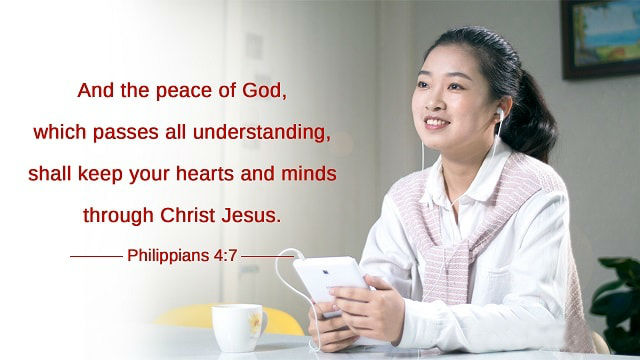 Bible Verses for Reference:
Philippians 4:7
And the peace of God, which passes all understanding, shall keep your hearts and minds through Christ Jesus.
Numbers 6:26
The LORD lift up his countenance on you, and give you peace.
John 14:27
Peace I leave with you, my peace I give to you: not as the world gives, give I to you. Let not your heart be troubled, neither let it be afraid.
Isaiah 53:5
But he was wounded for our transgressions, he was bruised for our iniquities: the chastisement of our peace was on him; and with his stripes we are healed.
Leviticus 26:6
And I will give peace in the land, and you shall lie down, and none shall make you afraid: and I will rid evil beasts out of the land, neither shall the sword go through your land.
John 16:33
These things I have spoken to you, that in me you might have peace. In the world you shall have tribulation: but be of good cheer; I have overcome the world.
Psalm 119:165
Great peace have they which love your law: and nothing shall offend them.
Proverbs 3:2
For length of days, and long life, and peace, shall they add to you.
Romans 8:6
For to be carnally minded is death; but to be spiritually minded is life and peace.
Relevant Words of God:
A world in man's heart with no place for God is dark, empty without hope. And so arose many social scientists, historians, and politicians to express theories of social science, the theory of human evolution, and other theories that contravene the truth that God created man, to fill the heart and mind of man. And in this way, those who believe that God created everything become ever fewer, and those who believe in the theory of evolution become ever greater in number. More and more people treat records of the work of God and His words during the Old Testament age as myths and legends. In their hearts, people become indifferent to the dignity and greatness of God, to the tenet that God exists and holds dominion over all things. The survival of mankind and the fate of countries and nations are no longer important to them. Man lives in a hollow world only concerned with eating, drinking, and the pursuit of pleasure. … Few people take it upon themselves to seek out where God does His work today, or to look for how He presides over and arranges the destination of man. And in this way, unbeknownst to man, human civilization is less and less able to go according to man's wishes, and there are even many people who feel that, living in such a world, they are less happy than people who have gone. Even people of countries that used to be highly civilized air such grievances. For without the guidance of God, no matter how much rulers and sociologists wrack their brains to preserve human civilization, it is to no avail. No one can fill the emptiness in man's heart, for no one can be the life of man, and no social theory can free man from the emptiness with which he is afflicted. Science, knowledge, freedom, democracy, leisure, comfort, these are but a temporary respite. Even with these things, man will inevitably sin and bemoan the injustices of society. These things cannot restrain man's craving and desire to explore. Because man was made by God and the senseless sacrifices and explorations of man can only lead to more distress. Man will exist in a constant state of fear, will not know how to face the future of mankind, or how to face the path that lies ahead. Man will even come to fear science and knowledge, and fear even more the feeling of emptiness within him. In this world, regardless of whether you live in a free country or one without human rights, you are utterly incapable of escaping the fate of mankind. Whether you are the ruler or the ruled, you are utterly incapable of escaping the desire to explore the fate, mysteries, and destination of mankind. Much less are you capable of escaping the bewildering sense of emptiness. Such phenomena, which are common to all of mankind, are called social phenomena by sociologists, yet no great man can come forth to solve such problems. Man, after all, is man. The position and life of God cannot be replaced by any man. Mankind does not just require a fair society in which everyone is well-fed and is equal and free, but the salvation of God and His provision of life to them. Only when man receives the salvation of God and His provision of life to them can the needs, yearning to explore, and spiritual emptiness of man be resolved.
If a person's attitude toward fate is passive, it proves that he or she is resisting everything that God has arranged for him or her, that he or she does not have a submissive attitude. If one's attitude toward God's sovereignty over human fate is active, then when one looks back upon one's journey, when one truly comes to grips with God's sovereignty, one will more earnestly desire to submit to everything that God has arranged, will have more of the determination and confidence to let God orchestrate one's fate, to stop rebelling against God. For one sees that when one does not comprehend fate, when one does not understand God's sovereignty, when one gropes forward willfully, staggering and tottering, through the fog, the journey is too difficult, too heartbreaking. So when people recognize God's sovereignty over human fate, the smart ones choose to know it and accept it, to bid farewell to the painful days when they tried to build a good life with their own two hands, instead of continuing to struggle against fate and pursue their so-called life goals in their own manner. When one has no God, when one cannot see Him, when one cannot clearly recognize God's sovereignty, every day is meaningless, worthless, miserable. Wherever one is, whatever one's job is, one's means of living and the pursuit of one's goals bring one nothing but endless heartbreak and irrelievable suffering, such that one cannot bear to look back. Only when one accepts the Creator's sovereignty, submits to His orchestrations and arrangements, and seeks true human life, will one gradually break free from all heartbreak and suffering, shake off all the emptiness of life.
» You may be interested in reading more on our God's Protection page, or in the articles below:
• Receiving Healing From God, I Am Able to See the Light Again
• God's Salvation – A Lucky Premature Baby
• God Is With Me, I Fear Disaster No More
» Recommended: "It's Good to Believe in God" – God Has Given Me a Happy Life (English Dubbed)
Chat With Us!
In 2021, the pandemic has broken out again. What is God's will behind the disaster? How can we be protected by God from the disaster? Our online sermons tell you the answers. Feel free to join us.