Which are the verses about God's Love in the Bible? Do you know God loves us?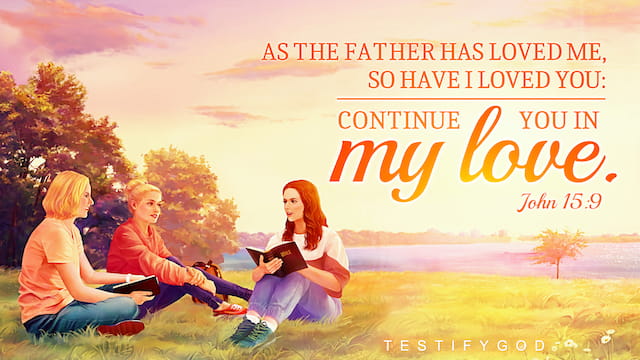 Deuteronomy 7:9
Know therefore that the LORD your God, he is God, the faithful God, which keeps covenant and mercy with them that love him and keep his commandments to a thousand generations;
---
Psalms 86:15
But you, O Lord, are a God full of compassion, and gracious, long suffering, and plenteous in mercy and truth.
---
Luke 10:27
And he answering said, You shall love the Lord your God with all your heart, and with all your soul, and with all your strength, and with all your mind; and your neighbor as yourself.
---
John 3:16
For God so loved the world, that he gave his only begotten Son, that whoever believes in him should not perish, but have everlasting life.
---
» We'd like to share with you the article:
• Blessings Due to Sickness: Essay on God's Love
• True Love of God Made Him See Hope in Despair
• God's Love Hidden Behind a Late Marriage
---
John 13:35
By this shall all men know that you are my disciples, if you have love one to another.
---
John 14:21
He that has my commandments, and keeps them, he it is that loves me: and he that loves me shall be loved of my Father, and I will love him, and will manifest myself to him.
---
John 15:9-10
As the Father has loved me, so have I loved you: continue you in my love. If you keep my commandments, you shall abide in my love; even as I have kept my Father's commandments, and abide in his love.
---
John 15:12-13
This is my commandment, That you love one another, as I have loved you. Greater love has no man than this, that a man lay down his life for his friends.
---
Romans 5:8
But God commends his love toward us, in that, while we were yet sinners, Christ died for us.
---
Ephesians 2:4-5
But God, who is rich in mercy, for his great love with which he loved us, Even when we were dead in sins, has quickened us together with Christ, by grace you are saved;
---
1 John 3:1
Behold, what manner of love the Father has bestowed on us, that we should be called the sons of God: therefore the world knows us not, because it knew him not.
---
1 John 4:7-8
Beloved, let us love one another: for love is of God; and every one that loves is born of God, and knows God. He that loves not knows not God; for God is love.
---
1 John 4:9-12
In this was manifested the love of God toward us, because that God sent his only begotten Son into the world, that we might live through him. Herein is love, not that we loved God, but that he loved us, and sent his Son to be the propitiation for our sins. Beloved, if God so loved us, we ought also to love one another. No man has seen God at any time. If we love one another, God dwells in us, and his love is perfected in us.
---
1 John 4:16-18
And we have known and believed the love that God has to us. God is love; and he that dwells in love dwells in God, and God in him. Herein is our love made perfect, that we may have boldness in the day of judgment: because as he is, so are we in this world.There is no fear in love; but perfect love casts out fear: because fear has torment. He that fears is not made perfect in love.
---
1 John 4:19
We love him, because he first loved us.
---
 » You may be interested in reading more on our The Love of God page, or in the articles below.
• I Finally Find the Secret to Living Harmoniously With My Wife
• After Husband Betrayed Me, God Guided Me Through the Pain
Peace be with you all! Dear brothers and sisters, if you have any understanding or enlightenment from God, you're welcome to share with us.
1. Via the online chat window at the bottom right corner of the screen.
2. Send an email to info@testifygod.org.
We sincerely hope we'll grow spiritually through sharing with each other.