15+ Bible Verses About Faith
Read the following Bible verses about faith. Find encouragement to have faith in God during hard times and strengthen your relationship with God.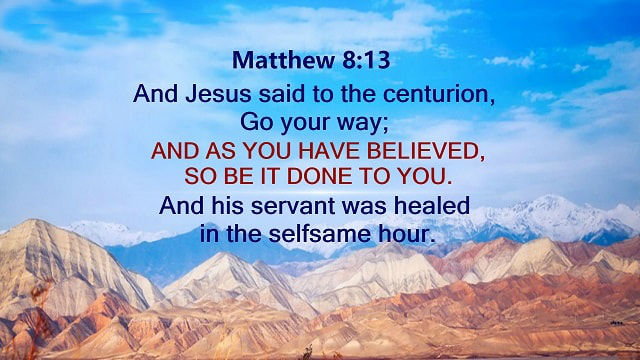 Matthew 7:7-8
Ask, and it shall be given you; seek, and you shall find; knock, and it shall be opened to you: For every one that asks receives; and he that seeks finds; and to him that knocks it shall be opened.
Matthew 17:20
And Jesus said to them, Because of your unbelief: for truly I say to you, If you have faith as a grain of mustard seed, you shall say to this mountain, Remove hence to yonder place; and it shall remove; and nothing shall be impossible to you.
Mark 9:23
Jesus said to him, If you can believe, all things are possible to him that believes.
James 2:22
See you how faith worked with his works, and by works was faith made perfect?
James 5:15
And the prayer of faith shall save the sick, and the Lord shall raise him up; and if he have committed sins, they shall be forgiven him.
Job 1:21
And said, Naked came I out of my mother's womb, and naked shall I return thither: the LORD gave, and the LORD has taken away; blessed be the name of the LORD.
Hebrews 11:6
But without faith it is impossible to please him: for he that comes to God must believe that he is, and that he is a rewarder of them that diligently seek him.
1 John 5:4
For whatever is born of God overcomes the world: and this is the victory that overcomes the world, even our faith.
1 Peter 1:21
Who by him do believe in God, that raised him up from the dead, and gave him glory; that your faith and hope might be in God.
James 1:3-4
Knowing this, that the trying of your faith works patience. But let patience have her perfect work, that you may be perfect and entire, wanting nothing.
Matthew 15:25-28
Then came she and worshipped him, saying, Lord, help me. But he answered and said, It is not meet to take the children's bread, and to cast it to dogs. And she said, Truth, Lord: yet the dogs eat of the crumbs which fall from their masters' table. Then Jesus answered and said to her, O woman, great is your faith: be it to you even as you will. And her daughter was made whole from that very hour.
Matthew 9:2
And, behold, they brought to him a man sick of the palsy, lying on a bed: and Jesus seeing their faith said to the sick of the palsy; Son, be of good cheer; your sins be forgiven you.
James 2:18
Yes, a man may say, You have faith, and I have works: show me your faith without your works, and I will show you my faith by my works.
1 Peter 1:7
That the trial of your faith, being much more precious than of gold that perishes, though it be tried with fire, might be found to praise and honor and glory at the appearing of Jesus Christ.
Matthew 21:21
Jesus answered and said to them, Truly I say to you, If you have faith, and doubt not, you shall not only do this which is done to the fig tree, but also if you shall say to this mountain, Be you removed, and be you cast into the sea; it shall be done.
Relevant Words of God:
What does this word, "faith," refer to? Faith is the genuine belief and the sincere heart that humans should possess when they cannot see or touch something, when God's work does not align with human notions, when it is beyond human reach. This is the faith that I speak of. People are in need of faith during times of hardship and refinement, and faith is something that is followed by refinement; refinement and faith cannot be separated. No matter how God works, and no matter your environment, you are able to pursue life and seek the truth, and seek knowledge of God's work, and have an understanding of His actions, and you are able to act according to the truth. Doing so is what it is to have true faith, and doing so shows that you have not lost faith in God. You can only have true faith in God if you are able to persist in pursuing the truth through refinement, if you are able to truly love God and do not develop doubts about Him, if no matter what He does you still practice the truth to satisfy Him, and if you are able to seek in the depths for His will and be considerate of His will.
Excerpted from "Those Who Are to Be Made Perfect Must Undergo Refinement"
» Read more on our Sermons on Faith page, or in the recommended articles below:
• What True Faith in God Refers to and How to Develop It
• As Christians, How Can We Face Trials From God Audaciously and Calmly?