18 Bible Verses About God's Grace
Which are the verses about grace in the Bible? What is real grace? Read these Bible verses about grace to know God's grace, and understand the Lord Jesus' salvation.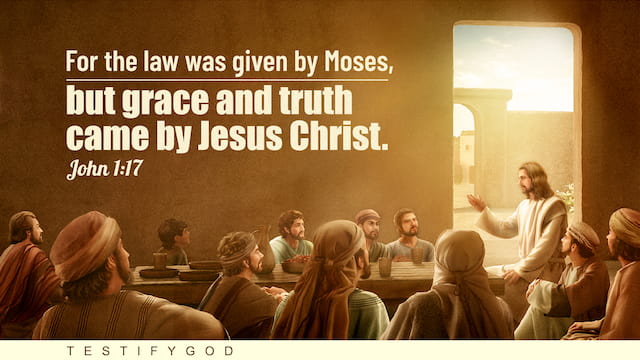 (John 1:17)." width="640" height="360" />
Exodus 34:6
And the LORD passed by before him, and proclaimed, The LORD, The LORD God, merciful and gracious, long-suffering, and abundant in goodness and truth.
2 Chronicles 30:9
For if you turn again to the LORD, your brothers and your children shall find compassion before them that lead them captive, so that they shall come again into this land: for the LORD your God is gracious and merciful, and will not turn away his face from you, if you return to him.
2 Corinthians 12:9
And he said to me, My grace is sufficient for you: for my strength is made perfect in weakness. Most gladly therefore will I rather glory in my infirmities, that the power of Christ may rest on me.
Nehemiah 9:31
Nevertheless for your great mercies' sake you did not utterly consume them, nor forsake them; for you are a gracious and merciful God.
Psalm 30:5
For his anger endures but a moment; in his favor is life: weeping may endure for a night, but joy comes in the morning.
Psalm 103:8
The LORD is merciful and gracious, slow to anger, and plenteous in mercy.
Isaiah 55:3
Incline your ear, and come to me: hear, and your soul shall live; and I will make an everlasting covenant with you, even the sure mercies of David.
Daniel 9:13
As it is written in the law of Moses, all this evil is come on us: yet made we not our prayer before the LORD our God, that we might turn from our iniquities, and understand your truth.
Joel 2:13
And rend your heart, and not your garments, and turn to the LORD your God: for he is gracious and merciful, slow to anger, and of great kindness, and repents him of the evil.
John 1:14
And the Word was made flesh, and dwelled among us, (and we beheld his glory, the glory as of the only begotten of the Father,) full of grace and truth.
John 1:17
For the law was given by Moses, but grace and truth came by Jesus Christ.
Romans 3:24
Being justified freely by his grace through the redemption that is in Christ Jesus.
Romans 5:2
By whom also we have access by faith into this grace wherein we stand, and rejoice in hope of the glory of God.
Romans 5:15
But not as the offense, so also is the free gift. For if through the offense of one many be dead, much more the grace of God, and the gift by grace, which is by one man, Jesus Christ, has abounded to many.
Romans 5:21
That as sin has reigned to death, even so might grace reign through righteousness to eternal life by Jesus Christ our Lord.
2 Corinthians 8:9
For you know the grace of our Lord Jesus Christ, that, though he was rich, yet for your sakes he became poor, that you through his poverty might be rich.
2 Timothy 1:9
Who has saved us, and called us with an holy calling, not according to our works, but according to his own purpose and grace, which was given us in Christ Jesus before the world began.
1 Peter 5:10
But the God of all grace, who has called us to his eternal glory by Christ Jesus, after that you have suffered a while, make you perfect, establish, strengthen, settle you.