Bible Verses About Serving
Read these Bible verses about serving and you will find out how to serve the Lord and how to serve one another.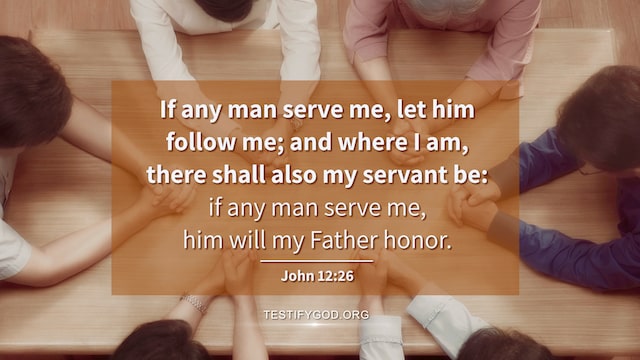 1. How to Serve the Lord
John 12:26
If any man serve me, let him follow me; and where I am, there shall also my servant be: if any man serve me, him will my Father honor.
Romans 7:6
But now we are delivered from the law, that being dead wherein we were held; that we should serve in newness of spirit, and not in the oldness of the letter.
Ephesians 6:6-7
Not with eye-service, as men pleasers; but as the servants of Christ, doing the will of God from the heart; With good will doing service, as to the Lord, and not to men.
Romans 14:17-18
For the kingdom of God is not meat and drink; but righteousness, and peace, and joy in the Holy Ghost. For he that in these things serves Christ is acceptable to God, and approved of men.
1 Corinthians 7:35
And this I speak for your own profit; not that I may cast a snare on you, but for that which is comely, and that you may attend on the Lord without distraction.
1 Thessalonians 1:9
For they themselves show of us what manner of entering in we had to you, and how you turned to God from idols to serve the living and true God.
Romans 12:11
Not slothful in business; fervent in spirit; serving the Lord.
2. How to Serve One Another
1 Peter 4:10-11
As every man has received the gift, even so minister the same one to another, as good stewards of the manifold grace of God. If any man speak, let him speak as the oracles of God; if any man minister, let him do it as of the ability which God gives: that God in all things may be glorified through Jesus Christ, to whom be praise and dominion for ever and ever. Amen.
Galatians 5:13-14
For, brothers, you have been called to liberty; only use not liberty for an occasion to the flesh, but by love serve one another. For all the law is fulfilled in one word, even in this; You shall love your neighbor as yourself.
Luke 22:26
But you shall not be so: but he that is greatest among you, let him be as the younger; and he that is chief, as he that does serve.
Matthew 23:11
But he that is greatest among you shall be your servant.