Bible Verses About Christmas: 2000 years ago, in order to redeem mankind who is struggling in sin, God personally became flesh as the Son of man and came to earth. He is our Savior, Jesus Christ. He was crucified and completed the work to redeem mankind from sin, so that we are no longer condemned for breaking the law, but live under God's rich grace and have the hope of eternal life. Below are some verses about the birth and work of the Lord Jesus Christ. You can share them on Christmas cards or social media sites. Read these verses, thank God for His salvation to us, and enjoy the peace and joy from God.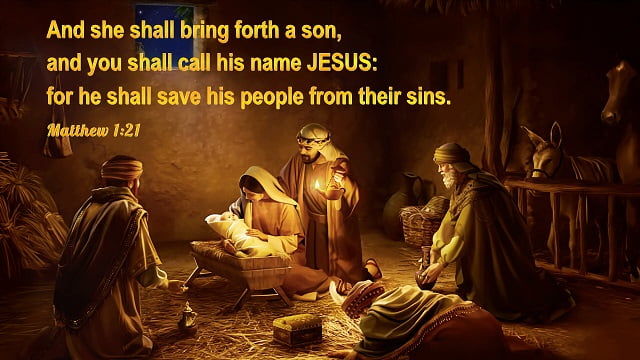 Bible Verses About the Birth of the Lord Jesus
Matthew 1:21
And she shall bring forth a son, and you shall call his name JESUS: for he shall save his people from their sins.
Luke 2:6-7
And so it was, that, while they were there, the days were accomplished that she should be delivered. And she brought forth her firstborn son, and wrapped him in swaddling clothes, and laid him in a manger; because there was no room for them in the inn.
Luke 2:39-40
And when they had performed all things according to the law of the Lord, they returned into Galilee, to their own city Nazareth. And the child grew, and waxed strong in spirit, filled with wisdom: and the grace of God was on him.
The Life of the Lord Jesus
Matthew 3:1-2
In those days came John the Baptist, preaching in the wilderness of Judaea, And saying, Repent you: for the kingdom of heaven is at hand.
Luke 3:21-22
Now when all the people were baptized, it came to pass, that Jesus also being baptized, and praying, the heaven was opened, And the Holy Ghost descended in a bodily shape like a dove on him, and a voice came from heaven, which said, You are my beloved Son; in you I am well pleased.
Luke 4:28
And all they in the synagogue, when they heard these things, were filled with wrath,
Luke 4:29-30
And rose up, and thrust him out of the city, and led him to the brow of the hill where on their city was built, that they might cast him down headlong. But he passing through the middle of them went his way,
Matthew 14:13-14
When Jesus heard of it, he departed there by ship into a desert place apart: and when the people had heard thereof, they followed him on foot out of the cities. And Jesus went forth, and saw a great multitude, and was moved with compassion toward them, and he healed their sick.
Matthew 14:19-21
And he commanded the multitude to sit down on the grass, and took the five loaves, and the two fishes, and looking up to heaven, he blessed, and broke, and gave the loaves to his disciples, and the disciples to the multitude. And they did all eat, and were filled: and they took up of the fragments that remained twelve baskets full. And they that had eaten were about five thousand men, beside women and children.
---
» Related Articles:
The Resurrection of Lazarus Proved 2 Aspects of God's Essence
Is Baptism the Prerequisite for Entering the Kingdom of Heaven?
---
John 11:1-2
Now a certain man was sick, named Lazarus, of Bethany, the town of Mary and her sister Martha. (It was that Mary which anointed the Lord with ointment, and wiped his feet with her hair, whose brother Lazarus was sick.)
John 11:40-44
Jesus said to her, Said I not to you, that, if you would believe, you should see the glory of God? Then they took away the stone from the place where the dead was laid. And Jesus lifted up his eyes, and said, Father, I thank you that you have heard me. And I knew that you hear me always: but because of the people which stand by I said it, that they may believe that you have sent me. And when he thus had spoken, he cried with a loud voice, Lazarus, come forth. And he that was dead came forth, bound hand and foot with grave clothes: and his face was bound about with a napkin. Jesus said to them, Loose him, and let him go.
---
The Lord Jesus was nailed to the cross
Matthew 27:28-29
And they stripped him, and put on him a scarlet robe. And when they had platted a crown of thorns, they put it on his head, and a reed in his right hand: and they bowed the knee before him, and mocked him, saying, Hail, King of the Jews!
Matthew 27:35
And they crucified him, and parted his garments, casting lots: that it might be fulfilled which was spoken by the prophet, They parted my garments among them, and on my clothing did they cast lots.
Matthew 27:49-54
The rest said, Let be, let us see whether Elias will come to save him. Jesus, when he had cried again with a loud voice, yielded up the ghost. And, behold, the veil of the temple was rent in two from the top to the bottom; and the earth did quake, and the rocks rent; And the graves were opened; and many bodies of the saints which slept arose, And came out of the graves after his resurrection, and went into the holy city, and appeared to many. Now when the centurion, and they that were with him, watching Jesus, saw the earthquake, and those things that were done, they feared greatly, saying, Truly this was the Son of God.
---
» Related Articles:
True Meaning of Jesus Saying "It Is Finished" on the Cross
We Continue to Sin After Being Saved. Will We See the Lord's Face?
Find Way to Get Rid of Sin, Resolve Over 10 Years' Confusion
Peace be with you all! Dear brothers and sisters, if you have any understanding or enlightenment from God, you're welcome to share with us.
1. Via the online chat window at the bottom right corner of the screen.
2. Send an email to info@testifygod.org.
We sincerely hope we'll grow spiritually through sharing with each other.