12 Bible Verses to Help You Overcome Anger and Control Your Emotions
We often can't control our anger. Thus, we hurt the people around us and meanwhile, we feel distress and remorse. The following 12 selected Bible verses about controlling anger will help us keep our emotions under control.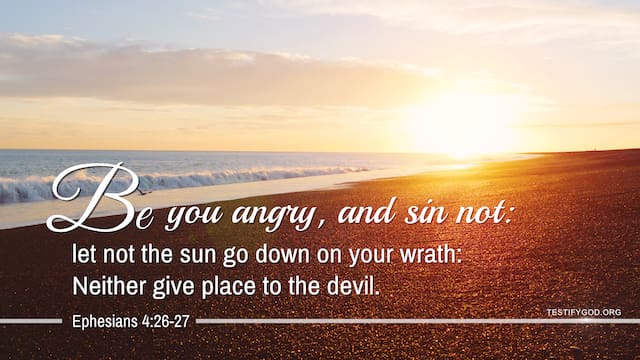 Ephesians 4:26-27
Be you angry, and sin not: let not the sun go down on your wrath: Neither give place to the devil.
Ecclesiastes 7:9
Be not hasty in your spirit to be angry: for anger rests in the bosom of fools.
Proverbs 14:17
He that is soon angry deals foolishly: and a man of wicked devices is hated.
Proverbs 14:29
He that is slow to wrath is of great understanding: but he that is hasty of spirit exalts folly.
Proverbs 15:1
A soft answer turns away wrath: but grievous words stir up anger.
Proverbs 15:18
A wrathful man stirs up strife: but he that is slow to anger appeases strife.
Proverbs 16:32
He that is slow to anger is better than the mighty; and he that rules his spirit than he that takes a city.
Proverbs 19:11
The discretion of a man defers his anger; and it is his glory to pass over a transgression.
Proverbs 29:11
A fool utters all his mind: but a wise man keeps it in till afterwards.
Psalm 37:8
Cease from anger, and forsake wrath: fret not yourself in any wise to do evil.
James 1:19-20
Why, my beloved brothers, let every man be swift to hear, slow to speak, slow to wrath: For the wrath of man works not the righteousness of God.
Matthew 5:22
But I say to you, That whoever is angry with his brother without a cause shall be in danger of the judgment: and whoever shall say to his brother, Raca, shall be in danger of the council: but whoever shall say, You fool, shall be in danger of hell fire.
If you have any experience or confusions about controlling anger, you are welcome to contact us by clicking the button at the bottom right corner of the screen. May we help and support each other in God's love and enter into this aspect of truth together.
You may be interested in reading more:
• I Finally Find the Path to Overcoming Repeated Sin
• 4 Principles to Have Normal Interpersonal Relationships
• 4 Tips for Christians to Get Along With People and Build a Good Relationship
» Popular Bible Verses by Topics:
• Bible Verses About Loving Your Neighbor as Yourself