Why Did the Lord Jesus Ask Peter Three Times – Reflection on John 21:16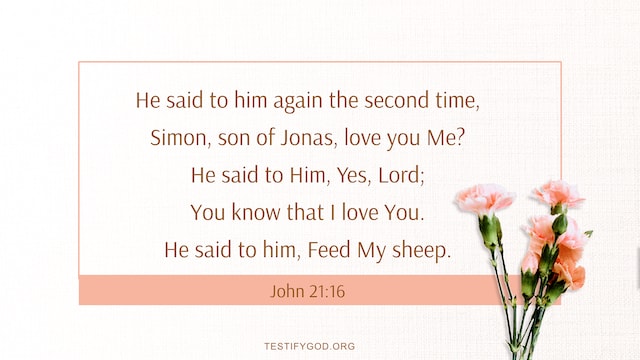 Today's Gospel
He said to him again the second time, Simon, son of Jonas, love you Me? He said to Him, Yes, Lord; You know that I love You. He said to him, Feed My sheep. - John 21:16
Reflection
Every time when I read this verse, I would mull it over: Why did the Lord Jesus ask Peter three times in a row, "Love you Me?" What did He want to tell us through these questions? Later, I found the answers in a spiritual book and became somewhat clear about God's will. It says in the book, "In this conversation, the Lord Jesus repeatedly asked Peter one thing: 'Simon, son of John, love you Me?' This is a higher standard which the Lord Jesus required from people like Peter after His resurrection, people who truly believe in Christ and strive to love the Lord. This question was a sort of investigation and interrogation, but even more, it was a requirement and an expectation of people like Peter. The Lord Jesus used this method of questioning so that people would reflect on themselves and look into themselves and ask: What are the Lord Jesus' requirements for people? Do I love the Lord? Am I a person who loves God? How should I love God? Even though the Lord Jesus only asked this question of Peter, the truth is that in His heart, by asking Peter these questions, He wanted to use this opportunity to ask this same type of question of more people who seek to love God. It is only that Peter was blessed to act as the representative of this type of person, to receive this questioning from the Lord Jesus' own mouth."
"The question was thought-provoking and meaningful, a question that cannot help but cause every follower of Christ to feel remorse and fear, but also to feel the Lord Jesus' anxious, sorrowful mood. And when they are in great pain and suffering, they are more able to understand the Lord Jesus Christ's concern and His care; they realize His earnest teaching and strict requirements of pure, honest people. The Lord Jesus' question allows people to feel that the Lord's expectations of people revealed in these simple words are not merely to believe in and follow Him, but to achieve having love, loving your Lord and your God. This kind of love is caring and obeying. It is humans living for God, dying for God, dedicating everything to God, and expending and giving everything for God. This kind of love is also giving God comfort, allowing Him to enjoy testimony and to be at rest. It is mankind's repayment to God, man's responsibility, obligation and duty, and it is a way that people must follow for their entire lives. These three questions were a requirement and an exhortation that the Lord Jesus made of Peter and all people who would be made perfect. It was these three questions that led and motivated Peter to follow his path in life to the end, and it was these questions at the Lord Jesus' parting that led Peter to start on his path of being made perfect, that led him, because of his love for the Lord, to care for the Lord's heart, to obey the Lord, to offer comfort to the Lord, and to offer up his whole life and his whole being because of this love."
After reading these words, I knew the word "Love you Me?" that the Lord Jesus asked Peter three times is too meaningful. It contains God's expectations of man: In God's heart, He doesn't only want to gain people who believe in and follow Him but expects to get man's love of Him and man's heart that truly loves Him. In God's eyes, it is the most precious that man has a God-loving heart. So, God asked Peter three times, "Love you Me?" God hopes all those who truly follow Him can pursue to be people like Peter and can achieve true love of God. I couldn't help reflecting on myself: Do I have love for God? Many times I said I would seek to love God, but in reality I usually made deals with God for the sake of my own interests, and demanded God's blessings because of my little sacrifices, and so on.
Compared to God's requirements, I have a long way to go. But I'm willing to come before God to pray, read more of His words, seek the enlightenment and illumination of the Holy Spirit and understand the requirements and the will of God, and practice according to His words in my life and work. I hope that one day I can satisfy Him and comfort His heart.
» Read more on our The Gospel of Jesus Christ page about Knowing Jesus Christ, or in the recommended articles below:
Join our Bible study group!
Are you willing to take 10 minutes to pray to God and read His words? Join our group now!