Top 10 Bible Verses About Thanksgiving to God
Giving thanks is not just for Thanksgiving Day. It is recorded in the Bible that, "Rejoice ever more. Pray without ceasing. In every thing give thanks" (1 Thessalonians 5:16–18). God created us, saved us, and constantly provides us with what we need. He is always with us and protects us from being harmed by Satan. This is God's great love. Everyone with a heart and a soul will be moved by God's love and show their gratitude to God. The following 10 Bible verses about thanksgiving to God will guide us to give thanks to God's love.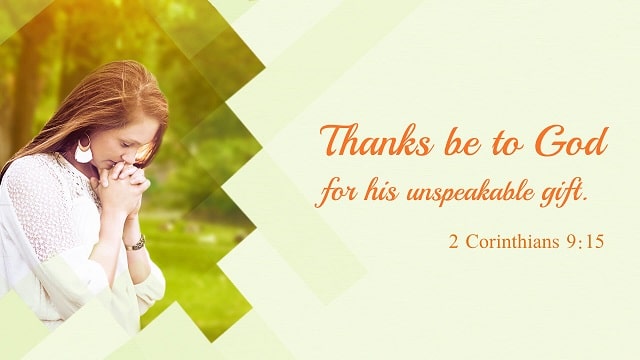 Hebrews 12:28
Why we receiving a kingdom which cannot be moved, let us have grace, whereby we may serve God acceptably with reverence and godly fear.
1 Thessalonians 5:16-18
Rejoice ever more. Pray without ceasing. In every thing give thanks: for this is the will of God in Christ Jesus concerning you.
Philippians 4:6
Be careful for nothing; but in every thing by prayer and supplication with thanksgiving let your requests be made known to God.
Psalm 28:7
The LORD is my strength and my shield; my heart trusted in him, and I am helped: therefore my heart greatly rejoices; and with my song will I praise him.
Psalm 34:1
I will bless the LORD at all times: his praise shall continually be in my mouth.
Psalm 95:2-3
Let us come before his presence with thanksgiving, and make a joyful noise to him with psalms. For the LORD is a great God, and a great King above all gods.
Colossians 4:2
Continue in prayer, and watch in the same with thanksgiving.
1 Chronicles 16:34
O give thanks to the LORD; for he is good; for his mercy endures for ever.
Psalm 118:28
You are my God, and I will praise you: you are my God, I will exalt you.
Psalm 100:4
Enter into his gates with thanksgiving, and into his courts with praise: be thankful to him, and bless his name.
» Read more on our Testimonies of Faith page, or click on the related articles below:
• Receiving Healing From God, I Am Able to See the Light Again
• A Testimony of Faith: My 6-Year-Old Granddaughter Miraculously Comes Back to Life
• Understanding the grace of God: Accompanied by God's Love, I Was No Longer Worried About My Children's Illness
Chat With Us!
In 2021, the pandemic has broken out again. What is God's will behind the disaster? How can we be protected by God from the disaster? Our online sermons tell you the answers. Feel free to join us.